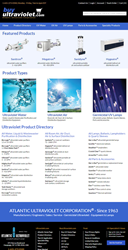 "My favorite feature of the new BuyUltraviolet.com is the cross-referencing feature..."
Hauppauge, New York (PRWEB) May 03, 2017
Atlantic Ultraviolet Corporation is pleased to announce the launch of its newly redesigned e-commerce website BuyUltraviolet.com. The fresh design of the website's interface gives new and existing customers easy access to product information about ultraviolet disinfection and purification units, UV lamps, parts, and accessories. Atlantic Ultraviolet has been at the forefront of designing and manufacturing UV equipment and UV lamps since 1963. With this long history as leaders in the industry comes an extensive line of cross-compatible products available. The entire redesign gives people visiting the website a streamlined research, selection, and purchase experience. Customers can now find and buy what they need, easily and confidently, at BuyUltraviolet.com.
Ann Wysocki, COO of Atlantic Ultraviolet Corporation says, "My favorite feature of the new BuyUltraviolet.com is the cross-referencing feature for Ster-L-Ray® Germicidal Ultraviolet Lamps, and Crystal Clear Quartz Sleeves. You can now easily click-through to any product category, and use the 'Search Lamp / Quartz Sleeve' search box to find your item. You can search by part type, manufacturer, model, length, and also search directly by product name or number."
Creating a positive user experience dictated each improvement that Atlantic Ultraviolet implemented on BuyUltraviolet.com. Both individuals that are researching ultraviolet technology for disinfection and those that are ready to make a purchase desire the features found on the new website. A few of the benefits found on the new e-commerce website include an enjoyable view layout, ease of gathering information, simple selection and add to cart, and quick checkout process.
Enjoyable Viewing with Enhanced Visual Appeal

Clean and cool colors for relaxing viewing
Large crisp product images provide visual details
Easy reading provided by standard fonts
Responsive Design Enables Shopping at a Desk or On the Go

Compatible with all browsers and mobile devices
Straightforward Navigation

Locate products in just a few clicks
Improved Product Search and Filters

Clear-cut design, specification search, and streamlined filters finds products quickly, saving the user time
Extensive and Readily Available Product Info

Enhanced product and technology detail provided to give confidence in selection
PDF docs, brochures, spec sheets, manuals, maintenance videos are all easy to navigate, select, and print right on the product's page
Ultraviolet Application Specialist Contact Readily Available

Atlantic Ultraviolet's phone number and contact info is now on the top and bottom of every page for easy accessibility of assistance
Easy and Secure Checkout

The"Product Quick-Add" quickly adds items to the cart, and the user has the option to sign-in to check out, or check out as a guest.
Charles Boehme, UV Application Specialist states, "One of the most common calls we receive are folks trying to order UV lamps for their existing equipment. On the old site, they would sometimes be frustrated, and they would drop off the purchase cycle at the point of selecting. The new cross-referencing of UV Lamps and Quartz Sleeves is now super easy for the customer to figure out and we've already noticed a decrease in related calls, and an increase in purchases!"
About Atlantic Ultraviolet Corporation
Manufacturers / Engineers / Sales / Service - Germicidal Ultraviolet Equipment & Lamps
In 1963, Atlantic Ultraviolet Corporation began engineering and manufacturing ultraviolet water purification equipment, ultraviolet air sanitization and surface disinfection systems, and germicidal UV lamps for residential, commercial, and industrial applications. They continue to engineer and manufacture their products in the USA.
Germicidal ultraviolet lamps used in Atlantic Ultraviolet's products produce short wave radiation that is lethal to bacteria, virus, and other microorganisms. Well-established as a method of choice, ultraviolet technology is effective, economical, safe, quick, and easy to use due to its by-product free process. The method is unique without the use heat or chemicals. For more information about Atlantic Ultraviolet Corporation, or how UV disinfection works, visit the official company website at Ultraviolet.com or call 1-631-273-0500.