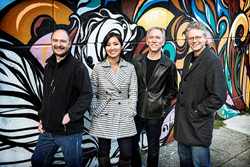 San Rafael, CA (PRWEB) May 01, 2017
For more than 40 years, San Francisco's Kronos Quartet—David Harrington (violin), John Sherba (violin), Hank Dutt (viola), and Sunny Yang (cello)—has combined a spirit of fearless exploration with a commitment to continually re-imagining the string quartet experience. In the process, Kronos has become one of the world's most celebrated and influential ensembles, performing thousands of concerts worldwide, releasing more than 60 recordings, collaborating with many of the world's most eclectic composers and performers, and commissioning more than 900 works and arrangements for string quartets.
A Grammy winner, Kronos is also the recipient of both the Polar Music and Avery Fisher Prizes. With a staff of ten, the nonprofit Kronos Performing Arts Association (KPAA) manages all aspects of Kronos' work, including the multi-year education and legacy project Fifty for the Future: The Kronos Learning Repertoire, which is commissioning—and distributing for free—the first learning library of contemporary repertoire for string quartet.
WHAT: A unique, brilliant and contemporary string quartet experience.
TICKETS: $26 - $36 with VIP, Reserved & General Admission choices
WHEN: 5:00 p.m. on Sun. June 11 ~ Doors @ 4:30 p.m.
WHERE: The Osher Marin JCC, 200 N. San Pedro Rd., San Rafael (half a mile east off 101)
PARKING: Ample FREE parking
KRONOS QUARTET
David Harrington, violin
John Sherba, violin
Hank Dutt, viola
Sunny Yang, cello
"I've always wanted the string quartet to be vital, and energetic, and alive, and cool, and not afraid to kick ass and be absolutely beautiful and ugly if it has to be. But it has to be expressive of life. To tell the story with grace and humor and depth. And to tell the whole story, if possible."
—David Harrington
The Kanbar Center for the Performing Arts is the Performing Arts Department within the Osher Marin Jewish Community Center in San Rafael, California. For close to 25 years they have spread the power of music, voice, humor, taste, culture, movement and words throughout the community by presenting classical music, comedy, musical concerts, jazz, theater and performance in the grand Hoytt Theater, along with lectures, chats and demonstrations in the Kurland lounge, and great world music & dancing for all ages outdoors under summer skies on Swig Field. All are welcome; no membership is required to attend.
The Center is a long-standing Marin non- profit, centrally located in Marin County and just a quarter mile east off Hwy 101.