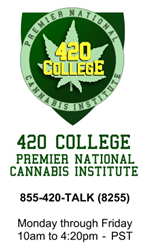 420 College students in attendance of this seminar will have access to industry experts who not only have extensive, intimate knowledge of the industry but also play a part in shaping the very rules
Sacramento, Ca (PRWEB) May 02, 2017
420 College, the Marijuana Industry's leading educational institution will host another one of its much-anticipated seminars May 6th through May 7th in Sacramento, California. The bulk of this particular seminar will focus on unpacking the recently proposed draft regulations for the state medical cannabis cultivation and licensing program.
The seminar is scheduled on the heels of the release regulations and is a tremendous opportunity for hopeful cannabis industry entrepreneurs. The release of the draft regulations officially marks the start of the 45-day period where the public is encouraged to provide feedback on the proposed regulations.
The California Department of Food and Agriculture or CFDA for short, has developed these regulations to establish cannabis cultivation and a track-and-trace system which is also commonly referred to as "seed-to-sale." The CFDA is acting in accordance with the Medical Cannabis Regulation and Safety Act along with the recently passed Adult Use of Marijuana Act. CalCannabis says they are in their final stages of developing regulations which the industry as a whole will be beholden to and are now depending on public commentary to further shape said regulations.
420 College students will hear from legal experts who will summarize and synthesize the regulations into bite-size, digestible pieces of information so that they'll be better able to provide constructive feedback to the CDFA and help shape the regulations in their favor.
CalCannabis plans to take on much more than just creating regulations and issuing cultivation licenses. In fact, CalCannabis plans to create three separate licensing authorities: The Bureau of Marijuana Control, CalCannabis Cultivation Licensing, and The Office of Manufactured Cannabis Safety.
Each authority will tackle a different sector of the industry to maximize efficiency and insure quality. The Bureau of Marijuana Control will be housed within the Department of Consumer Affairs and will deal with licensing dispensaries, distributors, transporters, and testing labs. The Office of Manufactured Cannabis Safety or (OMCS) will issue licenses to the manufacturers of cannabis products. Finally, CalCannabis will be housed within the Department of Food and Agriculture and will of course deal with licensing cultivators.
George Boyadjian, CEO of 420 College, says, "420 College students in attendance of this seminar will have access to industry experts who not only have extensive, intimate knowledge of the industry but also play a part in shaping the very rules the students will be beholden to once they enter the industry. This is invaluable and could be the kind of insider knowledge that makes all the difference in one's experience in the cannabis industry."