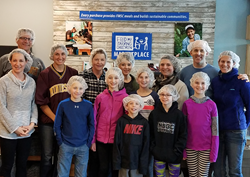 Our charitable efforts are an extension of our company beliefs. Authentic passion of serving people is part of our DNA.
St. Paul, Mn (PRWEB) May 02, 2017
Nimble Impressions, a premier Twin Cities area marketing and creative agency has been nationally recognized for "Doing Good". PPAI (Promotional Products Association International) is featuring Nimble in this month's May edition of their nationally distributed PPB Magazine. The feature article titled "The Hero's Among Us" seeks to highlight companies that have established charitable giving programs or charitable outreach efforts. The Nimble For Good initiative established by Nimble in 2016 to formally brand efforts made by the company gained the attention of Texas based PPAI.
The article (http://pubs.ppai.org/2017/04/the-heroes-among-us/) is a wonderful recognition for a small business trying to make an impact beyond the products/services offered. It's a real affirmation that being a socially responsible company is valued by our global community. Nimble is humbled by the exposure and also encouraged by it to continue efforts. "What an honor! We know we can do so much more, but are pleased to have a formal effort in place to keep momentum going. We can more easily rally internal and external support with what is in place," says Alan Haskins, CEO of Nimble Impressions.
Nimble For Good (http://nimbleimpressions.com/nimble-for-good/) is the philanthropic arm of Nimble Impressions. Graced by our amazing customers Nimble is consequently healthy and strong. The company believes in the notion that "To Whom Much Is Given, Much Is Expected." In that spirit the company developed this formal initiative to give back and display its dedication to "doing good."
Great organizations like the National Outdoor Leadership School (NOLS), National Parkinson's Foundation, and Feed My Starving Children are current benefactors. Part of what caught the attention of PPB was the "1% of NOLS" initiative. Nimble gives 1% of Promotional Product Sales to NOLS. As a unique organization dear to the company, utilizing and encouraging sales of promotional products was a creative approach to giving back.
The drive to exceed customer expectations is inevitably connected to this recent attention. Steve Schendel, Sales Executive for Nimble believes that "our charitable efforts are an extension of our company beliefs. Authentic passion of serving people is part of our DNA." The company is honored to recognize his contribution to the local community as a volunteer firefighter for the Apple Valley Fire Department.
Nimble is grateful to PPAI and PPB for spotlighting their efforts. It will use this attention as fuel to build on what has been done so far.
About Nimble Impressions
Nimble Impressions is a Minnesota-based marketing agency whose knowledge and over 20 years of experience, coupled with your unique business situation, create phenomenal results.
While we are based in the Twin Cities, Nimble serves clients nationally. We collaborate on a brand and carry it through the different, unique business areas catering to company needs such as: messaging, web design and development, print and digital collateral, as well as marketing and promotional services and products. A partnership with us equates to an extension of your business's daily operations. We alleviate the heavy lifting associated with strategic marketing. Whether your company is in need of a website redesign, promotional products or a tradeshow booth, we can help. Search engine optimization, to public relations to design and communication, we will bend to assure all of your needs are met and delivered above expectations.
From start to finish our staff, whose everyday goal is to ensure your satisfaction, skillfully manages every aspect of your project with expertise, creativity and customer service.