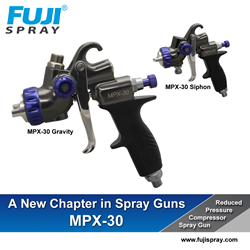 For many years customers have asked Fuji Spray for a spray gun they can use with their shop compressor. We now have an option available to meet our customer's needs"
Toronto, Ontario (PRWEB) May 03, 2017
Fuji Spray is a leading North American manufacturer of HVLP paint spraying equipment. The company is proud to announce the launch of a new mid pressure compressor spray gun – The MPX-30.
Mid pressure (MP) is also widely known as reduced pressure (RP). The decision to enter the reduced pressure market was based on a shift in the industry from high pressure and HVLP towards RP.
"Until now, our spray guns have been compatible only with turbines. For many years customers have asked Fuji Spray for a spray gun they can use with their shop compressor. We now have an option available to meet our customer's needs" said Mark Rosin, president of Fuji Spray.
The MPX-30 is available in either Gravity feed or Siphon model. A high pressure regulator gauge is included with all models. Recommended operating pressure 13.8cfm at 36psi.
The MPX-30 is a general purpose spray gun perfect for any type of professional spray finishing. Versatile in terms of application and performance to handle all types of coatings. Designed for full system application: solvent-based basecoats, low VOC colors or clear coat.
Key Features:

MPX-30 Technology combines rapid application and higher transfer efficiency
100% stainless steel fluid passages suitable for water-borne and solvent-based coatings
Perfect for any type of professional spray finishing
Optimized air cap design results in soft spray pattern and outstanding atomization
MPX-30 will be available May 1st, 2017 at several online retailers in Canada and the United States.
For more information on this new chapter at Fuji Spray, visit http://www.fujispray.com/compressor-spray-guns/
See the MPX-30 in action - watch this video at: http://www.youtube.com/watch?v=pHADhJ95nkA&feature=youtu.be
About Fuji Spray
Since 1986 Fuji Spray has designed and built HVLP systems that have set the standard for the industry. HVLP is 'Clean Technology'.
With over 30 years of experience through innovation plus improved technology, Fuji Spray has continued to stay market leaders in their field. Our leading brand of products offers a wide range of spray systems to meet the needs of the professional and serious DIYer – all of this supported by exceptional customer service each and every time.
Fuji Spray headquarters are located in Toronto, Canada.