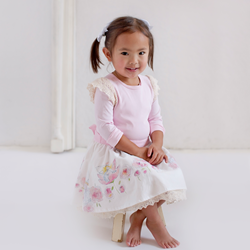 "I discovered several European girls apparel brands touting the benefits of clothing made with organic fibers," said Pink Elephant Founder, Sudhir Kakar. "But when I searched for fashionable organic infant clothing domestically, I was disappointed."
New York City, NY (PRWEB) May 03, 2017
From the playground to the party, Pink Elephant's flexible mix-and-match styles help moms extend their girls' wardrobes across settings and seasons. Sensibility and whimsy come together with Pink Elephant's Signature Collection as well as seasonal offerings. The brand aims to make top-quality, organic fashion accessible by selling direct to cut out the middle man and reduce retail overhead, with savings passed on to its customers.
The Organic Trade Association reports that sales of organic cotton have grown significantly in recent years, as consumers increasingly seek out sustainable, chemical-free fiber. Organic fiber sales in the U.S. totaled more than $1.1 billion in 2014, up 18 percent from the year before.
Pink Elephant's founder is Sudhir Kakar, a veteran in the women's fashion industry with his company Woodland Trading. The brand's creation was inspired by the birth of his first granddaughter. "I discovered several European girls apparel brands touting the benefits of clothing made with organic fibers," said Kakar. "But when I searched for fashionable organic infant clothing domestically, I was disappointed."
Recognizing an untapped market in the U.S., Kakar set out to make available highest quality organic clothing that was also fashionable. He assembled a team with expertise in two areas – fashion and kids. The Pink Elephant management team's credentials include apparel design, retail buying, production, sales, logistics and eco-friendly practices – coupled with qualifications of being moms and a nanny. Together they have enthusiastically brought the Pink Elephant brand to market.
Pink Elephant's clothing is 100% organic, excluding embellishments, and is GOTS certified. The Global Organic Textile Standard (GOTS) is the worldwide leading textile processing standard for organic fibers, including ecological and social criteria. GOTS certification requires Pink Elephant's stringent adherence to standards in the entire textile supply chain. Customers can have the peace of mind that Pink Elephant organic cotton is grown and processed in healthy, environmentally responsible ways. The certification also ensures that the clothing is not manufactured with child labor or in sweatshops.
Pink Elephant is founded with the commitment of treating its customers the way its team wants to be treated. The company offers an unconditional guarantee, allowing for free returns or exchanges if a customer is not completely satisfied.
Pink Elephant Organic Fashions are available exclusively at pinkelephantorganics.com.