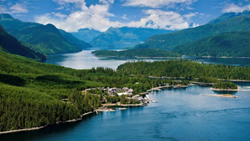 We are always looking for unique activities to offer our guests at Sonora Resort, particularly experiences that can enrich a deeper connection with nature and our surroundings, and Canadian West Coast heritage
Sonora Island, BC, Canada (PRWEB) May 01, 2017
Sonora Resort, one of Canada's top luxury wilderness retreats, opens today for what is certain to be a momentous 2017 season. Located within the secluded Discovery Islands in British Columbia, Sonora Resort celebrates Canada's 150th anniversary by officially launching a new experience that offers visitors a rare opportunity to experience the vibrant culture of the Homalco First Nation.
"We are always looking for unique activities to offer our guests at Sonora Resort, particularly experiences that can enrich a deeper connection with nature and our surroundings, and Canadian West Coast heritage," explains Wynne Powell, Sonora Resort president and CEO. "We have worked with the Homalco First Nation for many years with our grizzly bear watching program. It was a natural fit for us to partner on a cultural experience that will provide our guests with the opportunity to feel even more connected with British Columbia during their stay."
The Cultural Tour by the Homalco First Nation commences on June 1, 2017. "Homalco" means "people of turbulent, or fast running water." The tour begins with a traditional Homalco welcome, followed by an exploration of history around the Orford River. Guests have the opportunity to visit a local fish hatchery, enjoy an interactive demonstration of traditional Cedar weaving, visit with a Homalco artist, and weather permitting, paddle a Salish designed canoe. A traditional lunch completes the experience.
In addition to the new Cultural Tour, executive Relais & Chateaux chef Lukas Gurtner unveils a special Canada 150 menu to celebrate the bounty of British Columbia's harvest and locally produced-wine.
"This will be Lukas' first full season as the senior executive chef at Sonora Resort, and we are looking forward to his interpretation of Pacific Northwest cuisine," says Sean Ross, vice president of Sonora Resort. "Lukas grew up on Vancouver Island and is familiar with where our food comes from, especially in our surrounding areas. He is truly a chef of our land and enjoys foraging on Sonora Island when he can. We are looking forward to a stellar 2017 season."
Sonora Resort lies within the heart of the intimate ecological meeting place where the North Pacific waters touch the coastal rainforests of B.C. Visitors can only travel to Sonora by way of helicopter, sea plane, or boat. The resort welcomes guests from all over the world and is a proud member of Relais & Chateâux, Virtuoso Hotels & Resorts, Condé Nast Johansens, Signature Travel Network, and a TripAdvisor 2016 Travelers' Choice award winner.
For more information about Sonora Resort, please visit http://www.sonoraresort.com.
For more information about Relais & Chateâux, please visit http://www.relaischateaux.com.
About Sonora Resort
Sonora Island is located within the Discovery Islands at the mouth of Bute Inlet, one of the deepest inlets in North America. Guests reach Sonora Resort by boat or air, approximately 50 minutes by private helicopter from Vancouver. Sonora is a Relais & Chateâux property and unique in the world because of its secluded location, abundance of natural beauty and wildlife, with luxury accommodations and gourmet cuisine. Sonora welcomes guests from May to October each year. The guided grizzly bear tours at the nearby Orford River are offered in partnership with the Homalco First Nation, from August to October. Additional Sonora Resort highlights include a tennis court, conservatory, and the Island Currents Spa with five treatment rooms including a Couple's massage room, outdoor hot and cold mineral pools, fitness facility and relaxation room. Sonora Resort was recently named to the prestigious 2016 Conde Nast Traveller UK Gold List. http://www.sonoraresort.com