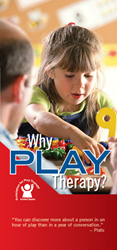 We are excited to be a part of the Innovations series because it will allow us to further educate the public on what play therapy is, why it's effective with children, and who we are as an association.
Jupiter, FL (PRWEB) May 02, 2017
DMG Productions is proud to announce that The Association for Play Therapy (APT) will be featured in an upcoming episode of Innovations with Ed Begley Jr., airing third quarter 2017 on FOX Business.
Established in 1982, APT is a national professional society created to foster contact among mental health professionals interested in exploring and, when developmentally appropriate, applying the therapeutic power of play to communicate with and treat clients, particularly children.
Defined as the systematic use of a theoretical model to establish an interpersonal process wherein trained play therapists use the therapeutic powers of play to help clients prevent or resolve psychosocial difficulties and achieve optimal growth and development, child play therapy is a way of being with the child that honors their unique developmental level and looks for ways of helping in the "language" of the child – play. In this segment audiences will learn how licensed mental health professionals therapeutically use play to help their clients, most often children ages three to 12 years, to better express themselves and resolve their problems, and how Play Therapy works best when a safe relationship is created between the therapist and client (one in which the latter may freely and naturally express both what pleases and bothers them).
"Thirty-five years ago, two psychologists saw a need for mental health professionals that used therapeutic play with children. Since then, the association has grown into 6,300 members, more than 3,000 credentialed play therapists and 173 universities that offer instruction specific to play therapy. Those numbers say a lot about where the field of play therapy is headed," says Kathryn Lebby, President & CEO of APT. "We are excited to be a part of the Innovations series because it will allow us to further educate the public on what play therapy is, why it's effective with children, and who we are as an association."
"Research suggests Play Therapy is an effective mental health approach, regardless of age, gender, or the nature of the problem, and works best when a parent, family member, or caretaker is actively involved in the treatment process," said Michele Nehls, Senior Producer for the Innovations TV series. "We look forward to exploring this exciting topic."
About The Association for Play Therapy:
First envisioned by Charles Schaefer, PhD, he and Kevin O'Connor, PhD, co-founded the Association for Play Therapy in 1982 in New York to provide an information exchange forum for professionals interested in developing a distinct group of interventions that use play as an integral component of the therapeutic process for children in need. As APT celebrates 35 years, it's membership has grown to more than 6300 members, half of those hold a professional credential specific to play therapy, 30 universities have designated centers of play therapy, a quarterly research journal is published by the American Psychological Association and an annual conference brings more than 1000 play therapists together annually.
For more information, visit: http://www.a4pt.org.
About Innovations and DMG Productions:
Innovations, hosted by award winning actor Ed Begley, Jr., is an information-based series geared toward educating the public on the latest breakthroughs in all areas of society. Featuring practical solutions and important issues facing consumers and professionals alike, Innovations focuses on cutting-edge advancements in everything from health and wellness to global business, renewable energy, and more.
DMG Productions (responsible for creating the Innovations show) includes personnel specialized in various fields from agriculture to medicine, independent films to regional news and more. Field producers work closely with experts in the field to develop stories. This powerful force enables DMG to consistently produce commercial-free, educational programming that both viewers and networks depend on.
For more information visit: http://www.InnovationsTelevision.com or contact Michele Nehls at (866) 496-4065 x 822 or via email at info(at)InnovationsTelevision.com.