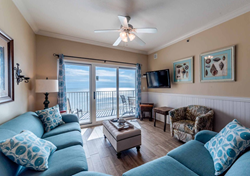 At Seawind, you don't have to sacrifice luxury or amenities for location, you get it all."
Gulf Shores, AL (PRWEB) May 01, 2017
As Gulf Shores' reputation as a popular vacation destination grows, so too do the vacation rental offerings of Southern Rentals and Real Estate in Coastal Alabama. Southern is proud to offer more than 40 vacation accommodations and an office location at one of the most coveted destinations in Gulf Shores: Seawind.
Seawind condos in Gulf Shores overlook the Gulf of Mexico, and feature two and three bedrooms to accommodate up to nine guests. Not only are these condos nestled in the sugar white sand of the Gulf Coast, the complex boasts amenities including an indoor pool, outdoor pool, kids' splash pool, grill zone, sauna, and state-of-the-art fitness facility.
Located right on the beach of Coastal Alabama, Seawind is at the heart of all the action. This May, Gulf Shores will host the NCAA National Beach Volleyball Championship and the legendary Hangout Fest, which features nearly 100 musical artists. As those who plan to cheer on their favorite team or performer arrive, Seawind is proud to offer lodging within walking distance of these major events.
In addition, Gulf Shores is home to a new $500 million amusement park scheduled to open this summer. Established by a local Native American tribe, the 520-acre amusement park, named "Owa," will also include shops, restaurants, and outdoor recreational areas. Owa is adjacent to the Foley athletic center—a $40 million complex featuring indoor and outdoor fields.
Southern Rentals and Real Estate General Manager Richard Lamar added, "There's so much going on in Gulf Shores, and Seawind's reputation as a premier vacation spot speaks for itself. At Seawind, you don't have to sacrifice luxury or amenities for location, you get it all."
Frequented for years by those flocking to the area's pristine beaches, Seawind is one of the most sought after vacation condos in Gulf Shores. Just in time for spring and summer, Southern invites guests to enjoy a week-long beach vacation, starting at only $1,285. Visit SouthernResorts.com to book a vacation today, while there is still availability for Memorial Day weekend.
Established in 1995, Southern Rentals and Real Estate is one of the most sought-after providers of vacation rentals in Northwest Florida and Coastal Alabama. Locally owned and operated by two sets of brothers, Brad and Mike Shoults and Kevin and Kerry Veach, and Susan Carleton, Southern represents nearly 1,400 vacation rentals, 1,000 long term rentals, countless real estate opportunities and more than 40 associations along the Gulf Coast. The Southern family of companies includes Southern Vacation Rentals, Southern Residential Leasing, Southern Real Estate Sales, RE/MAX Southern, and Southern Association Management. For more information, visit GoSouthern.com.