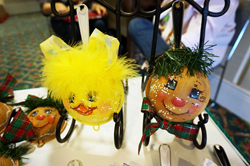 "The money earned will help fund our community service projects," - Donna Pultz, President, Tidewater Decorative Painters
Wichita, KS (PRWEB) May 02, 2017
Six chapters of the Society of Decorative Painters (SDP), a global community for painters and aspiring artists, will sell handmade art at Oceans of Color, the 45th Annual SDP International Conference & Expo, to aid their support of a variety of charitable organizations and member activities. These specialty items will be available for sale at the Ocean Center in Daytona Beach, FL on Wednesday, May 17 from 12pm-5pm; Thursday, May 18 from 12:30pm-5pm; Friday, May 19 from 11am-5pm; and Saturday, May 20 from 8am-12pm. The participating Chapters are the Tidewater Decorative Painters of Newport News, VA; Palm Coast Decorative Painters of Palm Coast, FL; Citrus Ridge Decorative Artists of Lake Wales, FL; Gulf to Bay Decorative Artist of Sarasota, FL; Heart of Pinellas Decorative Artists of Largo, FL; and Seaside Decorative Painters of Daytona Beach, FL.
Tidewater Decorative Painters will be selling handmade brush holders, oyster shell ornaments, eyeglass holders and a beautiful hand-painted table. Donna Pultz, President of the Chapter, shared, "We hope the money earned will help fund our community service projects, which include making memory boxes for our local Virginia hospital's neonatal unit, hand-painted tote bags for children in our local foster care system, and holding 'painting with a vet' activities that we conduct at our local veterans hospital."
In addition to fundraising for charitable causes, the chapters are excited to introduce who they are to Daytona Beach residents. "This is an opportunity for Daytona Beach residents to take painting lessons that are not always available to them," said Lana Raymond, President of Palm Coast Decorative Painters. "Local residents may find something that may pique their interest in painting with us."
Oceans of Color will also feature more than 60 painting classes and a two-day expo of painting vendors. Vicki Alley, member of Citrus Ridge Decorative Artists, says, "Some of our members will be attending the annual event for the first time and are so excited to see what it is all about. We encourage area residents who have never painted before to try some of the beginner classes. They will see we paint on clothes, glassware, rugs, shoes, tote bags – so much more than canvases."
The Citrus Ridge Decorative Artists will display a beautiful hand-painted quilt called "Wings Over Florida", which depicts birds and butterflies native to the state of Florida. Also, the Chapter will be placing hand-painted seashells around the Ocean Center facility for attendees to find and bring to their table for a chance to win a gift basket.
The expo will be open to conference registrants on Friday, May 19 starting at 9am and to the general public starting at 11am, and to all individuals on Saturday, May 20 from 9am to 4pm.
For more information and to register, visit http://www.decorativepainters.org.