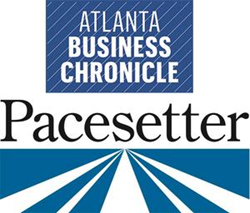 Our product is an ideal solution for enterprise email marketers and we're seeing enthusiastic responses from major brands about what we're able to do for them.
(PRWEB) May 03, 2017
MessageGears' significant growth continues to garner attention and accolades. The enterprise email service provider was listed as one of Atlanta's top 100 fastest growing companies by the Atlanta Business Chronicle for the second year in a row. The list is part of the ABC's larger 2017 Pacesetter Awards, which honors privately-held companies in Atlanta.
MessageGears accepted the award Thursday, April 27, at a ceremony in Atlanta. The full list of 2017 Pacesetter Award winners will be profiled in an upcoming issue of ABC.
To qualify for a Pacesetter Award, companies must be headquartered in the 20-county metro Atlanta area and generate revenue between $1 million and $300 million. They must also have a two-year growth in sales of more than 50 percent. Companies are ranked by a growth index formula used to even the playing field among companies of different sizes.
MessageGears has experienced tremendous growth over the last several years. In June 2016, it secured $2.3 million in Series A funding to ramp up hiring and product development. In November, the company hired long-time Atlanta marketing executive Roger Barnette as its new CEO, allowing founder and former CEO Dan Roy to fully focus on product development. This March, it added a new VP of Account Management, Christopher Brown, to its leadership team, and more than doubled its office space with a move to a new corporate headquarters in downtown Atlanta.
"There couldn't be a more fitting award to describe life at MessageGears," said Barnette. "Our product is an ideal solution for enterprise email marketers and we're seeing enthusiastic responses from major brands about what we're able to do for them. Our clients have two primary goals: they want access to up-to-date data on their customers so they can send relevant, personalized messaging, but they also require the highest security measures to protect their data. With our unique hybrid approach, we are able to do both."
MessageGears sends billions of messages every month on behalf of global business-to-consumer (B2C) brands such as Expedia, Orbitz, GEICO, and Runkeeper. Its success is due to its unique product architecture that combines on-premises software with cloud delivery. This hybrid approach allows Fortune 500 companies to maximize their use of real-time data and create email campaigns that are highly personalised and effective.
This year's Pacesetter adds to a growing list of honors recognizing MessageGears. Since 2015, the company has received seven Client Satisfaction Awards from The Relevancy Group, a Silver Stevie® Award, and was named a Top 20 Most Promising Digital Marketing Solution Provider by CIOReview. MessageGears was also included as a representative vendor in the 2016 and 2017 Gartner "Market Guide for Email Marketing" report.
ABOUT MESSAGEGEARS
MessageGears is the first and only email marketing service to combine the power and security of on-premises software with the efficiency and scalability of cloud delivery. Sending over a billion messages a month, MessageGears' unique hybrid architecture provides an extraordinary combination of data integration, data security, cost-savings and marketer empowerment for Fortune 500 companies and data-savvy marketers around the world. Founded in 2010, MessageGears is based in Atlanta, Georgia. For more information, please visit http://www.messagegears.com.