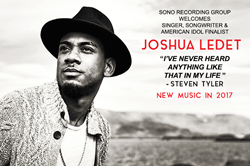 "Joshua is an amazing talent. We are very excited to welcome him to the SRG family" Claude Villani, President & CEO The SoNo Recording Group
Norwalk, CT (PRWEB) May 02, 2017
The SoNo Recording Group (SRG), a leading full-service independent label dedicated to expanding the reach of artists and producers, today announced the signing of R&B Singer Songwriter Joshua Ledet. Joshua's upcoming release will be marketed and distributed globally by SRG through its partnerships with the ILS Group, the Universal Music Group, and eOne Entertainment.
Born in West Lake, Louisiana, Joshua Ledet is a highly-gifted singer, songwriter and performer who possesses a powerful and soulful voice. The youngest of 8 children, church and family played a huge role in Joshua's early life helping to shape his talent. When he was 12 years old, Joshua made his solo debut at the church where his father was the pastor and his mother was a featured vocalist in the choir. The entire congregation looked on in awe as a pre-teen Joshua Ledet gave them a glimpse of what was to come.
Joshua came to national prominence in 2012 during his memorable run on the 11th season of American Idol. Judge Randy Jackson called his performance of the James Brown classic, "It's A Man's Man's Man's World", "one of the best in the history of any singing competition," and fellow judge Steven Tyler declared "I've never heard anything like that in my life, IN MY LIFE!".
Claude Villani President and Founder of The SoNo Recording Group states, "Joshua is an amazing talent. We are very excited to welcome him to the SRG family, and we plan to put all the pieces together to provide for his success. Big thanks to David Thomas (Take 6) for his A&R work on this project."
SRG's head of Radio Promotions Jerry Lembo says "From the first time I witnessed a Joshua Ledet performance it firmly established in my mind that he exemplified the proverbial 'IT factor'! I look forward to assisting SRG in their effort to promote Joshua to the level of stardom he deserves!".
With the support of some of the best production talent in the industry today, Joshua is currently writing and recording new songs that will be part of his debut on SRG Records to be released later this summer. Joshua's manager Brian Avnet adds,"Joshua and I are very excited to be working with Claude Villani and his team at SRG We are looking forward to making great music together".
For all inquiries, please contact:
Michael Cusanelli
VP of Sales and Marketing
The SoNo Recording Group
Tel: (203) 895-3924
Email: michael(at)srgrecords.com