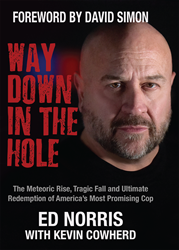 "Eddie Norris was a cop's cop and is a man's man," said John Miller, former deputy commissioner of the NYPD and former assistant director of the FBI in his advanced praise of the book.
BALTIMORE, Md. (PRWEB) May 02, 2017
Ed Norris went from being the golden boy of law enforcement with a recurring role on HBO's critically-acclaimed series, "The Wire," to a federal prisoner forced to sleep on the floor, using his feet to prop newspaper across the bottom of the cell door to hold the rats at bay. Today, his firsthand story of emerging from the abyss hits shelves. "Way Down in the Hole," written by Norris and New York Times best-selling author Kevin Cowherd, shares the emotional journey of a man who hit rock bottom and his long journey to redemption.
The story begins while Norris is a young boy, then traces the trajectory of his meteoric career path. After 20 years as a crime-fighting savant with the New York Police Department, Norris rose from beat cop to deputy commissioner of operations at the young age of 36. After his career with the NYPD, Norris was recruited and ultimately became police commissioner of Baltimore. He breathed life into a demoralized force that lowered the city's infamous homicide count for the first time in a decade. After the 911 attacks, he took over the Maryland State Police and pushed innovative anti-terrorism strategies that made him a national leader in the field.
At the University of Virginia, they taught a graduate course about how his leadership techniques transformed one of the most violent cities in the country. He was the golden boy of law enforcement, a brash, larger-than-life figure with a taste for fine restaurants, bespoke clothing and fast motorcycles.
Then it all came crashing down. An investigation into a little-known Baltimore Police expense account ended in a prison sentence. Thus began the hellish ordeal that ultimately cost him his livelihood, reputation, health and marriage.
The book follows Norris from New York to Maryland to three federal prisons, then details his triumphant return as a successful radio personality in Maryland, where his popularity with locals never waned. Throughout, Norris weaves a dark web of politics and corruption that crosses state and party lines, and that charts the course for what it took to reduce the most lauded crime fighter in the country to a convicted felon.
"Eddie Norris was a cop's cop and is a man's man," said John Miller, former deputy commissioner of the NYPD and former assistant director of the FBI in his advanced praise of the book. "The story he tells of being one of the nation's best crime fighters, and then getting caught in the grinding wheels of the very justice system he was raised by is an example of the old adage: he who speaks the truth should have at least one foot in the stirrups. It is the rise and fall and rise story you can't put down."
Norris is available for media interviews, editorials and as a media resource on key leadership and law enforcement-based issues. Press review copies are available by request. Please contact Andrea Lynn at 410-420-2001 or andrea.lynn(at)fallstongroup(dot)com to request a copy of the book or interview. Learn more about "Way Down in the Hole" and order online at Amazon (Hardcover, ISBN 978-1627201124, $26.99). Follow Norris on Twitter and LinkedIn @EdNorris, and his official author Facebook page at @EdNorrisBook. Join the conversation online using #WDITH or #EdNorrisBook.
About the Author
A Brooklyn, New York native, Ed began his career with the New York Police Department in 1980. While with the NYPD, he created the Cold Case Squad which inspired a book and television series. In 2000, Ed was recruited by Baltimore's mayor and became Police Commissioner of the Baltimore Police Department, where his honors included the NAACP President's Award for police and community relations. Ed's leadership improved the policing culture and for the first time in more than a decade, helped drive annual homicides below 300. In 2002, Ed was again recruited, this time by Maryland's governor, and appointed Maryland State Police Superintendent.
Ed is widely known for his role as Detective Ed Norris on HBO's critically acclaimed television series, The Wire. He also played an investigator in the 2009 film, "Jack the Ripper in America." Currently, in addition to authoring his new book "Way Down in the Hole," Ed is a popular radio personality and actor. He is the co-host of the weekday morning Norris & Long Show on CBS WJZ-FM (105.7 The FAN) in Baltimore, Maryland and is also featured in weekly news segments on WBFF Fox45 News in Baltimore. For more information, visit facebook.com/ednorrisbook.
About the Co-Author
Kevin Cowherd is the author, along with Hall of Famer Cal Ripken Jr., of the New York Times best-seller "Hothead" and five other baseball novels for young readers. Their sixth book, "The Closer," was published by Disney-Hyperion in March. Cowherd's last three non-fiction books for Apprentice House Press were "The Art of Crisis Leadership," how to save time, money, customers and, ultimately, your career, with Rob Weinhold, crisis leadership expert (http://www.FallstonGroup.com), "The Opening Act: Comedy, Life and the Desperate Pursuit of Happiness," a look at the career of Baltimore comic Larry Noto, and "Hale Storm: The Incredible Saga of Baltimore's Ed Hale, including a Secret Life with the CIA." Cowherd was an award-winning sports and features columnist for The Baltimore Sun for 32 years and has also written for Men's Health, Parenting and Baseball Digest magazines. A collection of his newspaper columns, "Last Call at the 7-Eleven" can still be found in fine remainder bins everywhere. Cowherd travels from the USA.