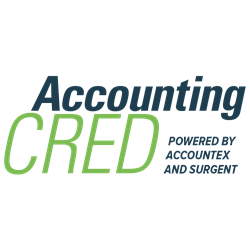 (PRWEB) May 03, 2017
CPAs and accounting professionals have a new way to earn CPE. AccountingCred, a groundbreaking new online education platform that provides free high-quality, innovative, technology-focused webinars for accounting, tax, and bookkeeping professionals, just opened registration. AccountingCred webinars include CPE-credit courses as well as non-credit learning.
AccountingCred is powered by two companies who combined have unmatchable connections to CPAs and other accounting professionals in the U.S., and who each have a reputation for providing high-quality, top-notch education.
Accountex USA, the producer of the fastest-growing accounting technology conference in the U.S., and Surgent, the leading provider of CPE for CPAs as well as exam preparation courses for tax and accounting professionals, enable AccountingCred to deliver a unique opportunity for CPAs and other professionals to earn quality CPE and stay up-to-date on technologies and trends at no cost.
"Surgent understands that accounting- and tax-related product companies, especially technology vendors, have a strong desire to reach CPAs and other accounting professionals. And we believe there is a place in the market for high-quality sponsored education that goes beyond the all-too-typical "infomercials" and instead delivers real value," said Evan Kramer, CEO of Surgent. "That's why we chose to back AccountingCred, which enables sponsoring companies to deliver real education in the marketplace, maintaining the integrity of CPE and educational values."
"Accountex USA provides critical content for accountants and CPAs through our membership, content site, and event," said Brian Cuthbert, Executive Director of Accountex. "We're very excited to further our commitment to the industry by backing AccountingCred in providing no-cost best-in-class online education to the professionals that are the heart of the Accountex community."
AccountingCred courses will cover a wide array of topics from small business loans, investing, technology solutions, practice management, exam preparation, and more. Leading industry vendors will teach the courses, providing expert instruction and valuable insights to attendees. Users will be able to attend up to five courses per year for CPE credit, and can attend an unlimited number of courses for non-CPE credit.
Each month's curriculum will feature webinars sponsored by a leading industry vendor. The first of these, set for June 6, 2017, will be sponsored by Kabbage, Inc., a small business loan provider. According to Victoria Treyger, Chief Revenue Officer for Kabbage, "Accountants and CPAs have first-hand knowledge of the challenges their small business clients face in accessing capital. Partnering with AccountingCred to provide free resources on funding options is an important step in educating these professionals on how their clients can access capital and grow their businesses."
July's featured sponsor, SmartVault, is a secure file sharing and online storage provider. SmartVault's Marketing Manager Abbie Deaver, explained: "SmartVault is committed to helping accountants stay informed of the latest security standards, technology trends, and best practices to increase their value to clients. We're excited to partner with AccountingCred to continue to help accounting pros elevate themselves to the critical role of trusted advisor."
August will be sponsored by Certify, the leading cloud-based travel and expense report management solution for companies of all sizes. "It's important that leading technology companies work with partners like Surgent and Accountex USA to offer unbiased educational and CPE opportunities," said Robert Neveu, CEO of Certify Travel and Expense. "Certify is committed to driving thought leadership throughout the industry with proprietary data and research programs, and we're excited to support AccountingCred with our shared focus in these efforts."
These are just a few of the featured sponsors for AccountingCred. Each featured sponsor will provide an expert webinar speaker and top-quality educational content.
Registration for AccountingCred courses is open now at AccountingCred's website. There is no cost to attend courses. Professionals interested in attending an AccountingCred course can find more information by visiting: https://www.accountingcred.org/
About Accountex USA:
Accountex USA is the leading independent expo and conference focused on accounting technology. Accountex USA focuses on the technology that moves accounting forward as well as the business processes and organizational success needed in the marketplace. It is an independent conference meaning that it offers more than one viewpoint of solutions. Accountex USA features the most accounting technology solutions at one major event, plus latest trends and the traditional technologies that still dominate, without any focus on a singular suite of products. http://www.accountexusa.com
About Surgent:
Surgent's mission is to go beyond just providing the continuing education credits that CPAs and other professionals must earn to maintain their professional credentials; instead Surgent aims to serve as the most reliable and trustworthy source of the practical and timely information CPAs, EAs, and other tax and financial professionals need to excel professionally.
In its 30-year history, Surgent has provided more than 5.6 million CPE credits issued to tens of thousands of accounting professionals across the U.S. and abroad, through live seminars and online courses. More recently, Surgent has become one of the fastest-growing CPA Exam Review course providers, helping aspiring CPAs pass the rigorous 4-part CPA Exam while saving as much as 400 hours of study time compared to competitors' review courses. https://www.surgentcpe.com/