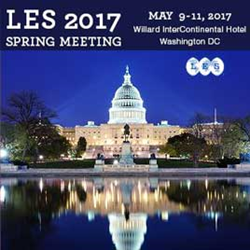 Chicago, IL (PRWEB) May 02, 2017
ktMINE, an intellectual property (IP) information services firm, announced today that Eric Podlogar of ktMINE will be a speaker at the Licensing Executives Society (LES) Spring Meeting taking place on May 9-11, 2017 in Washington, D.C. Podlogar will be a panelist on the "The art and science of IP valuation: methods, data and technology for market-based valuation" discussion. The theme of this year's meeting will be "Stronger Economies Through Licensing, Is IP Policy Making or Breaking Your Deals?"
The workshop session will take place on Wednesday, May 10th from 4:10 PM to 5:30 PM EST as part of the Valuation & Pricing track. Session panelist will be:

Marcia Chang, Managing Director, Intellectual Property Sales and Licensing, Hewlett Packard Enterprise
George Koomullil, Founder and CEO, Relecura Inc.,
Eric Podlogar, Market Lead of IP Strategy & Valuation, ktMINE
Lynne Weber, Managing Director, Duff & Phelps, LLC
Justin Lewis, Managing Director, Ocean Tomo, LLC (Moderator)
Recent rulings, legislation and the ebb and flow of patent litigation have had a large impact on the value of IP assets and the ability to monetize them efficiently. The group will discuss different valuation methods used in practice, the influence of policies and events on the value of IP assets as observed through the evolution in transactions, licensing and royalty data from the market, how valuation methods have evolved in response, and the technologies available for tracking the variations in the value of IP for market based valuation.
At ktMINE, Eric Podlogar is the lead of the IP Strategy & Valuation market, specializing in technical demonstrations and consultations with over 12 years of experience in business intelligence and IP licensing. Podlogar will contribute data on market transactions from ktMINE that demonstrate impacts on value in the IP markets. ktMINE has over 115,000 agreements in their database covering worldwide geographic territories and many industries.
About ktMINE
ktMINE, headquartered in Chicago, IL, is an intellectual property information firm founded in 2008. Focused on minimizing research time, maximizing analysis power, and strengthening business decisions, ktMINE provides businesses across the globe access to insights on industry players, technologies, and developments. For more information, visit http://www.ktmine.com, or contact ktMINE to schedule a meeting.