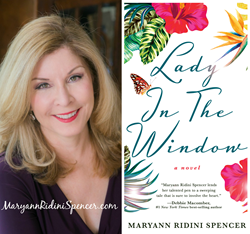 It was no accident that we just happened to land at Sweet Momma's; it was our sweet Momma in heaven letting us know that she was with us, and that she would be with us always.
(PRWEB) May 02, 2017
Article by Maryann Ridini Spencer, an award-winning screenwriter, producer, author, TV host and author of "Lady in the Window," a new novel Capturing Aloha Magic, Hope, Healing & the Infinite Mother-Daughter Bond (May 9, 2017, $24.95, SelectBooks, ISBN: 978-1-59079-407-4).
In October 2014 I learned the devastating news that my mother was suffering from a massive brain tumor. Doctors gave her six to eight months to live. As it turned out, we celebrated for six weeks with family and friends, enjoying dinners and the most beautiful moments together. She died on November 25, 2014.
Although she lived a long life — she was in her 80s — I was deeply affected. As I discovered, no one knows what it's like to lose a parent until they have that personal experience. You can sympathize with people, but until it happens to you, there are no words to describe the depth of what you feel. Thankfully, there were no words of love that weren't shared over and over again with my mother. We had left nothing unsaid. Again, for that I am truly grateful and feel so blessed.
In order to heal, I turned to one activity that has granted me so much solace, joy and healing: reading books of a spiritual nature. This kicked off into full swing a few days after my mother's funeral. I was at JFK airport biding time for the flight back to Los Angeles when I spied the Hudson Newsstand — a weakness of mine. I thought to myself, "Don't buy any more novels!" At the time, I was carrying two paperbacks in my suitcase, and had a host more at home.
However, as I glanced at the wall of bestsellers, a cover caught my eye, "Proof of Heaven" by Dr. Eben Alexander. Quickly flipping through the pages, I discovered that Dr. Alexander, a neurosurgeon turned writer after a near-death experience, had contracted an extremely rare and deadly form of meningitis. It impacted his brain, and his following experiences and revelations changed his life forever, the details of which comprise this book. As I read further, I discovered that he returned home November 25 — the same day mother passed (although years apart). Obviously, I knew I had to purchase this book.
Reading Dr. Alexander's book along with books like Raymond Moody's "Life After Life," Judith Marshall's "My Conversations with Angels, Theresa Caputo's "You Can't Make This Stuff Up" and "There's More to Life Than This," have provided me with comfort and affirmation beyond words.
To this day, I find great comfort in reading, praying and something else that I find beyond mere coincidence — something I can only call "signs." For example, one sign that brings particular joy to my heart took place the morning after Mom passed. After an early morning taking care of preparations for the family later that day, my sister and I decided to go out for breakfast. Busy in conversation about Mom, and how sweet and loving she was, we couldn't seem to locate a restaurant. Finally, my sister saw something up ahead that looked like an eatery, so we turned into the parking lot without even noting the name of the place.
Then, when we looked up at the restaurant's sign, we turned and looked at each other in awe at the same time — the name of the restaurant was "Sweet Momma's Good Kitchen." The logo, of a sweet retro-looking woman with a short dark bob, was an absolute cartoon version of our mom if there ever was one!
"Sweet Momma" was also a name my sister and I often called our Mom. We both felt chills. It was no accident that we just happened to land at Sweet Momma's; it was our sweet Momma in heaven letting us know that she was with us, and that she would be with us always.
My new novel, Lady in the Window (in stores May 9, 2017, SelectBooks), captures the infinite mother-daughter bond relationship, as well as hope, healing and finding one's authentic place in the world. The poem I wrote below, which appears in the opening pages of my novel, demonstrates what I know to be true about that amazing bond and it's why we celebrate Mother's Day.
A MOTHER'S LOVE
A Mother's love is Eternal,
A place of warmth and light,
A devoted beacon that shines forever bright,
Guiding her children through the dark and perilous night.
Whether present or distant,
In this world or the next,
Her love is constant, never ceasing,
Like the endless tide of waves that kiss the ocean's shore,
A mother's love influences our Now and Forever,
And the best of our lives, in all our endeavors.
***
For "Lady in the Window" Book Reviews & Interviews with the Author,
contact: Kendra Brooks, Ridini Entertainment, (818) 884-0104 or email recprinfo(at)gmail(dot)com
LINK TO "Lady in the Window" Press Kit, VIDEO Book Trailer & Author Q&A VIDEO
Visit: MaryannRidiniSpencer.com
##