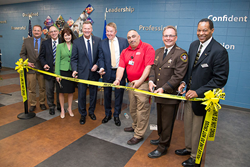 I believe that business, government and education can work together to create a better future for our young people and give them the best possible education and training to get a good start in life
Kenosha, Wisconsin (PRWEB) May 02, 2017
With scissors in hand, community leaders including the President and CEO of Gateway Technical College, Bryan Albrecht, Kenosha County Sheriff David Beth, Chairman and CEO of Kenall Manufacturing, Jim Hawkins and Lt. Governor Rebecca Kleefisch cut the yellow police tape and officially opened the highly-anticipated new Kenall Protective Services Training Center at Gateway Technical College on Friday, April 28, 2017.
The training center has been remodeled and expanded, providing a state-of-the-art training site for Gateway's law enforcement academy, as well as ongoing training for law enforcement professionals throughout Wisconsin. It includes newly remodeled tactical training areas, additional classrooms, a 12-lane shooting range, and a CSI lab. The center and other specific training sites also demonstrate situation-appropriate lighting solutions donated by Kenall.
Last November, Gateway Technical College named the Kenall Protective Services Training Center in recognition of the company's $250,000 donation to the Gateway Promise program. The program provides financial aid, including tuition and fees, for qualified low-income high school seniors in the Gateway district. Since moving to Kenosha in 2014, Kenall and Gateway have formed a close, cooperative relationship: "Gateway provides valuable training and support for our employees and we, in turn, strive to be a resource for the college," said Hawkins.
Being a part of the Gateway Promise is something that Hawkins takes very seriously: "I believe that business, government and education can work together to create a better future for our young people and give them the best possible education and training to get a good start in life," said Hawkins. "For more than 50 years, Kenall has been working closely with law enforcement and corrections to create safer spaces in those demanding environments: the Kenall Protective Services Training Center is a natural extension of our commitment to the law enforcement and corrections communities. It is also our way of showing our support for the men and women who put their lives on the line for all of us, every day," Hawkins concluded.
About Kenall
Kenall Manufacturing was founded in Chicago, Illinois in 1963 and has built a reputation for durable lighting solutions of superior quality and exceptional value. Today, the company focuses on the design and manufacture of sealed correctional lighting as well as healthcare, transportation, high-abuse and food processing lighting. Kenall luminaires are designed and manufactured in the USA and meet the guidelines established under the Buy American Act and the North American Free Trade Agreement. For additional information, visit http://www.kenall.com.