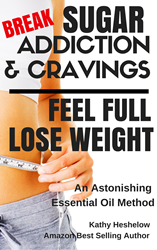 New Book on Sugar Addiction and Losing Weight is Released Today by Kathy Heshelow. The Book Reveals Shocking Facts About Sugar Addiction, and How to Tackle the Issue.
St. Petersburg, FL (PRWEB) May 02, 2017
Today, a new book written by author Kathy Heshelow appears on Amazon. Entitled "Break Sugar Cravings or Addiction, Feel Full, Lose Weight: An Astonishing Essential Oil Method", the book offers a solution to a serious problem.
"I reveal some interesting and shocking facts about sugar, and cite research from experts in the field which are evidence-based," says Heshelow.
"1 in 11 of every American has diabetes today, and much of this is tied to sugar consumption," says Heshelow, also founder of Sublime Naturals and Sublime Beauty. "Sugar consumption is up dramatically - even grossly so - over the last hundred year, and much of it is hidden in foods."
The book is especially meant for those who find they have sugar cravings; for those who are overweight and are trying to lose weight; and those who eat even when they are full. It can definitely help those who find they can't stop eating sweets. The natural method discussed is one to help get the situation under control - naturally.
A bonus offer is given in the front of the book as well, offering tools to help tackle the issues.
Find the new book on Amazon here, and see Heshelow's other books on Amazon here.