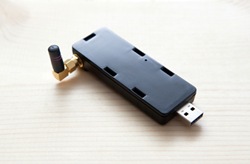 There are many steps between you and the online services you use, not all of which are adequately secured. IDVector secures that gap, protecting you, your data, and your identity.
Denver, CO (PRWEB) May 02, 2017
Privacy Defender, the revolutionary new USB device that provides simple, secure and private VPN access through any nearby WiFi network, is live on Kickstarter and raising funds to bring the project to life.
In a world where user's browsing data is consistently being sold and resold and privacy being taken as a mere afterthought the Privacy Defender is a breath of fresh air. Whether it's personal data being used by major corporations to re-target and sell, or worse, repressive governments using the internet to target those they disagree with, it is clear that personal data and information should and needs to be protected whenever a user is online.
"Public Wi-Fi and ubiquitous Internet access have become a technology staple in our daily lives. Whether you are traveling on a business trip, meeting at a coffee shop, or in a hotel lobby, Internet access is assumed - security, however, is not," says founder Ben Baumgartner. "Any public access point to the Internet is a potential avenue for malicious actors to observe your data - from log-in credentials to eavesdropping on your conversations. There are many steps between you and the online services you use, not all of which are adequately secured. IDVector secures that gap, protecting you, your data, and your identity."
Privacy Defender is a miniature, single board computer with a WiFi chipset that plugs into the USB port of any computer. It works seamlessly with any computer platform - Windows, Mac, Linux, BSD, ChromeOS - and with any browser or networked application.
Privacy Defender is a leak-proof Internet privacy platform that conceals a user's virtual location and encrypts their data through IDVector's worldwide privacy infrastructure. The company uses a global network of ephemeral Cloud VPN servers that are created and destroyed frequently -- or at a user's direction. Using Privacy Defender, users finally have the ability to create their own custom and private VPN paths using servers around the world, as easily as selecting from a list. In addition, the IDVector Privacy Infrastructure allows users to project your virtual location where they want it to appear while protecting their data getting their.
"There are numerous VPN-based services available to choose from. IDVector differentiates itself with its technically adept yet simple system for client access. The IDVector solution and platform work together allowing users privacy, security, and a level of anonymity," adds David Monahan, Senior Security Analyst. "User provisioning is done through the cloud while identity for billing is handled over a separate channel away from the normal Internet traffic and IDVector supports user designated geo-location for additional protection. The solution is well thought out and protects users from a multitude of Wi-Fi and other security attacks commonly seen using untrusted Wi-Fi access."
The IDVector Privacy Defender is currently live and available to support on Kickstarter: http://kck.st/2pf3QdL
About IDVector, Inc.
IDVector, Inc., is an innovator in the online privacy and security space focused on delivering next generation information security products that are accessible to everyone. In a world where everyone wants to monetize your online behavior, IDVector strives to bring scalable online identity protection, privacy, security, and anonymity solutions in easy to use form factors.
For more information on IDVector, Inc. please visit https://idvector.net