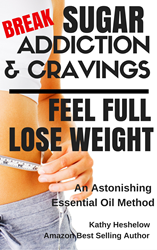 1 in 11 Americans have diabetes, and in most cases, it is tracked back to high sugar consumption. Americans don't even know that they are addicted or the damage excessive sugar can do. This new book lays it all out.
St. Petersburg, FL (PRWEB) May 03, 2017
The new Kindle book by Kathy Heshelow, entitled "Break Sugar Cravings or Addiction, Feel Full, Lose Weight", is free today only. The ebook is normally $3.99.
"Many don't know that sugar affects the same addiction area of the brain as crack or heroine," says Heshelow, "and many are simply craving more sugar and eating more and more. This can lead to poor health, obesity and even diabetes."
"In addition," Heshelow continues, "fructose as well as high fructose corn syrup (used in so many foods) turns of satiety controls so many continue to eat because they don't feel full. The solution proposed in the book helps bring this back into balance."
Heshelow wrote the book to help educate more people about the foods they are eating and what sugar itself is doing to the body. "Just reading about the statistics in chapter 1 of the book on how much sugar Americans consume - as compared to 50 and 100 years ago - is shocking. Diabetes was a little known disease 100 years ago, by the way. Now 1 in 11 American have it, thanks in a big way to sugar."
This book is part of the Sublime Wellness LIfestyle Series. The first book in the series was about Turmeric for wellness, and the second covered improving the immune system with 3 easy tools for support. More books are planned in the series.
Heshelow's other published books can be found here. She is also founder of Sublime Naturals and Sublime Beauty.