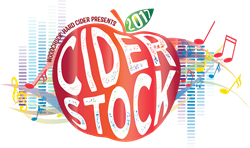 Middlebury, VT (PRWEB) May 02, 2017
Woodchuck Hard Cider is excited to present the line-up for Ciderstock™ 2017. On August 19th, the cidery will host headliner The Roots, with special guests Pepper & Tribal Seeds, along with Vermont's The Welterweights. The musical lineup will be supported by great food trucks, a Firkin Frenzy, and of course, Woodchuck cider. Tickets ($35) are available via Ticketfly, and $40 day of.
The details:
What: Ciderstock 2017
When: August 19, 2017, 2pm – 10pm
Where: The Woodchuck Cidery, 1321 Exchange St, Middlebury, VT 05753
For tickets: http://www.woodchuck.com/ciderstock/index.php
"Ciderstock has become part of our core here at Woodchuck," said Marketing Director Bridget Blacklock. "Cider and music are a natural fit, and it becomes more clear each year as we welcome enthusiastic fans to celebrate Woodchuck in our backyard!"
Ciderstock guests will also have opportunity to meet the Cider Makers, sample new styles of cider, and kick back and enjoy lawn games with friends. Local food vendors, including Crescent Catering, Island Ice Cream, Ahli Baba's, Smokin' Pete's BBQ, A&W, Thelma's Bread Dough, One Hearth Pizza, and more will be on hand to sell their wares.
For more information or to request hi-res imagery, please contact Caitlin Stroupe at cstroupe@vtciderco.com or (802) 318-1504.
###
About Vermont Cider Co.
Vermont Cider Co. introduced the U.S. to the craft cider category 26 years ago. Dedicated exclusively to cider making, they are the proud producers of their namesake Vermont Cider Co.™ brand, the original American hard cider, Woodchuck®, the circus of ciders, Gumption®, the west coast native, Wyder's® Cider, and importers of Magners® Irish Cider and Blackthorn®. With an unparalleled focus on quality and innovation, Vermont Cider Co. leads the category in releasing the most premium liquid and pioneering new ciders made from the finest ingredients. Under the watchful eyes of two award-winning cider makers, Vermont Cider Co. produces and distributes from Middlebury, VT, blending together the passion of their consumers, their creativity, and their heritage within the green mountains.