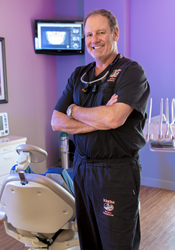 Mt. Pleasant, SC (PRWEB) May 02, 2017
Dr. Kevin Hogan, a general dentist, is pleased to announce he is now accepting new patients interested in cosmetic dentistry treatment with or without a referral. Patients can receive orthodontics, dental implants and teeth whitening in Mt. Pleasant, SC to brighten their smiles and their confidence.
The goal of cosmetic dentistry is to improve the aesthetic benefits of a smile. Dr. Hogan takes cosmetic treatment one step further to also improve function and oral health, whenever possible. In some cases, Dr. Hogan may recommend a complete smile makeover, or full mouth reconstruction, for more thorough treatment.
Teeth whitening in Mt. Pleasant, SC is frequently a preferred cosmetic treatment and can provide a drastic improvement to a patient's smile. At-home treatment often takes weeks, if not months, before producing desired results. Dr. Hogan offers professional, dental-grade whitening treatment for not only faster, more convenient treatment, but long-lasting care as well.
Beyond whitening treatments, Dr. Hogan is skilled in offering personalized, porcelain veneers. This treatment can provide an affordable smile transformation without braces or surgery. Those with missing teeth can limit further tooth loss and restore oral function by opting for a permanent tooth replacement option, dental implants. For simple to substantial tooth straightening, Dr. Hogan provides a variety of orthodontic options including clear braces and aligners for discreet treatment.
Dr. Hogan and his team are dedicated to providing modern cutting-edge treatments for effective and long-lasting care. Patients who would like to receive custom cosmetic treatment including porcelain veneers or teeth whitening in Mt. Pleasant, SC, are invited to contact Dr. Hogan's office by calling 843-639-5921.
About the Doctor
Dr. Kevin Hogan is a general dentist providing individualized care for patients in Mt. Pleasant, SC. Dr. Hogan is a graduate of the Indiana University School of Dentistry and has completed hundreds of hours of continuing education courses to stay contemporary with the latest dental technologies. In addition, he has also completed coursework with the Dental Organization for Conscious Sedation and has lectured at the University of North Carolina, Emory University, the Saginaw Valley University and AUA-American University of Antigua on head and neck anatomy and oral pathology. Dr. Hogan is a member of the American Dental Association, International College of Cranio-Mandibular Orthopedics, Academy of Laser Dentistry, International Association of Physiologic Aesthetics, Institute for Advanced Laser Dentistry, DOCS (the Dental Organization for Conscious Sedation), International Congress of Oral Implantologists and the South Carolina Dental Association. He is also a past member of the American Straight Wire Orthodontic Association, Maxillofacial Orthopedic Growth and Development, the American Academy of Pediatric Dentistry and the Functional Orthodontic Society. He and his team are dedicated to providing exceptional oral care to patients through personalized treatment plans. To learn more about the services offered by Dr. Hogan, please visit his website at http://www.smilesbyhogan.com or call 843-639-5921.