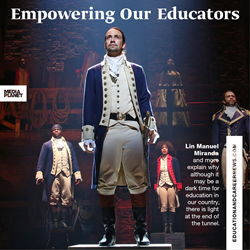 With teacher dropout rates rising each year nationwide, it is so important to re-engage and reinvest in our educators...
New York, NY (PRWEB) May 01, 2017
In celebration of National Teacher Appreciation Week, Mediaplanet today announces the launch of "Empowering Our Educators, a campaign aimed to celebrate and inspire our education community, and reinforce the bond between these educators and our nation. Building on the importance professional development and music & arts education integration the campaign's underlying mission is to inspire our students to look forward to a future filled with limitless possibility where no door is closed.
With teacher dropout rates rising each year nationwide, it is so important to re-engage and reinvest in our educators in every sense of the word- especially during the summer when new goals can be set and personal and professional growth can be achieved. National Teacher Appreciation Week is time to celebrate, but also a time for teachers to network with their peers, explore new ways to grow personally and professionally, and embrace their creativity to maximize their own potential as educators.
The print component of "Empowering Our Educators" is distributed within today's edition of USA Today in Boston, Chicago, Los Angeles, New York, Washington DC/Baltimore markets, with a circulation of approximately 250,000 copies and an estimated readership of 750,000. The digital component is distributed nationally, through a vast social media strategy, and across a network of top news sites and partner outlets.
"Hamilton" creator and former English teacher, Lin-Manuel Miranda spotlights how the arts truly broaden a student's ability to integrate it in their future careers. "It's not about making a bunch of artists out of high school students," "Art is the gateway to so many other professions." Joining in the effort, Erin Gruwell, inspiration behind the 2007 film "Freedom Writers", brings new light to her mission to give students a voice in an exclusive digital feature. To explore the digital version of the campaign, click here.
This campaign was made possible with the support of the American Association of Colleges for Teacher Education (AACTE), Share My Lesson, The American Federation of Teachers (AFT), NEA Member Benefits, the National PTA, Lysol, Horace Mann, TeacherLists, Blackboard, the National Association for Music Education (NAfME), and the National Council on Teacher Quality (NCTQ).
About Mediaplanet 
Mediaplanet is the leading independent publisher of content marketing campaigns covering a variety of topics and industries such as Health, Education, Lifestyle, Business and Technology, and Corporate Social Responsibility. We turn consumer interest into action by providing readers with motivational editorial, pairing it with relevant advertisers and distributing it within top newspapers and online platforms around the world. Please visit http://www.mediaplanet.com for more on who we are and what we do.
Press Contact:
Victoria Borkowski
Victoria.borkowski(at)mediaplanet(dot)com
(646) 755-7949