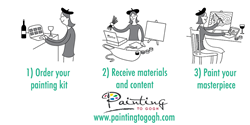 "One of our goals is to make art more accessible to everyone," said CEO Shashin Patel. "To learn how to paint, you were limited to taking a lesson, or buying art supplies on your own. There wasn't a convenient coherent experience, which we provide."
Chicago, Illinois (PRWEB) May 03, 2017
Painting to Gogh LLC, has launched the world's first paint education platform that delivers both the art supplies and step-by-step video tutorials nationwide.
Customers can choose from a selection of paintings from Painting to Gogh's growing catalog to recreate. Painting to Gogh will deliver a box containing the necessary art supplies, which include paint, brushes, easel and canvas to the the customer's home. Customer's will also receive access to an online step-by-step digital video tutorial taught by one of their experienced instructors so the customer can recreate that painting, usually in 1 to 2 hours.
Painting to Gogh had its soft launch in September, and has been used for various painting experiences across the country. From date night, to family day, to girls night out, Painting to Gogh provides a creative outlet for people of all ages. Painting to Gogh is also the perfect gift for Mother's Day.
Painting to Gogh will also be teaming up with Dimo's Pizza in Wicker Park to do paint, pizza, and beer nights monthly, with the first one occurring on May 11th, at the Dimo's location.
Painting to Gogh recently won the 2016 Red Eye Big Ideas Award, and has been featured in Built in Chicago, Crain's Chicago Business, and DNA Info Chicago.
About Painting to Gogh: Painting to Gogh ships all the art supplies you need to paint, and provides access to an online digital learning platform that allows its customers to re-create acrylic paintings from their catalog, in 1 to 2 hours. Painting to Gogh delivers their painting kits to anywhere within the continental United States. For inquiries, please contact info(at)paintingtogogh(dot)com