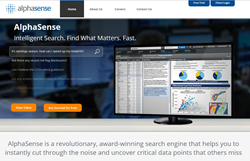 San Francisco, CA (PRWEB) May 03, 2017
AlphaSense, Inc., provider of the revolutionary AlphaSense search engine for knowledge professionals, has recently received multiple accolades for its intelligent search engine and its pioneering use of artificial intelligence (AI) technology. The industry recognition comes from a combination of independent technology and financial services publications and analysts.
"AlphaSense has been pioneering the application of AI technology for many years in building an intelligent search engine that helps knowledge professionals quickly find the information that matters," said Jack Kokko, CEO and co-founder of AlphaSense. "Our recent industry recognition is affirmation of what we hear from our more than 600 client firms on a regular basis – that our intuitive technology augments their expertise and leads to faster and smarter decisions."
This series of acknowledgements for AlphaSense includes:

For more information on these and other awards, visit http://www.alpha-sense.com.
AlphaSense Search Engine
Unlike any other search engine, AlphaSense applies intelligent search across thousands of high value sources containing critical information for business and financial decision makers. Content sources include global coverage of company filings, transcripts, broker research, company presentations, press releases, real-time news, trade and industry journals and clients' own internal content. AlphaSense allows its users to find what others miss while researching companies, products, themes or any number of critical data points. Powered by AI and natural language processing, AlphaSense search technology leverages its proprietary Smart Synonyms™ which automatically expand search keywords to include related terms while avoiding false positives.
For the latest news and information about AlphaSense, follow the company on Twitter @AlphaSenseInc. For more information or access to a free trial, visit the company's website.
About AlphaSense, Inc.
AlphaSense provides a revolutionary search engine for knowledge professionals. Our mission is to curate and semantically index the world's investment and market research content, including the vast high-value content sets that traditional web search engines cannot reach. Our users can rapidly search and discover key data points and track impactful new information with intelligent alerts. Our clients include many of the world's largest investment and advisory firms, global banks, law firms and corporations. The AlphaSense subscription service helps our clients become dramatically more productive and gain an information edge by discovering critical data points and trends that others miss.