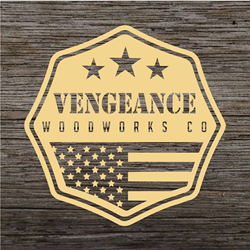 Giving soldiers and veterans a path towards entrepreneurship is an exciting opportunity for their future.
Bonita Springs, Florida (PRWEB) May 03, 2017
In recognition of Military Appreciation Month, iPartnerMedia has donated a $5,000 marketing package including website design, development and public relations services to Vengeance Woodworks Company in Fort Leonard Wood, Missouri. Owned and operated by active duty soldiers of the U.S. Army, Vengeance Woodworks specializes in handcrafted wooden American flags and other patriotic gifts made from wood. iPartnerMedia built a mobile responsive, e-commerce website that captures the spirit and beauty of their work.
"Deciding to donate a website to Vengeance Woodworks was an easy choice," said Albert Arguelles, vice president, iPartnerMedia. "As a veteran myself, I'm aware of the challenges of finding a balance between active-duty life and planning for the future. A website is a great opportunity for these soldiers to showcase their work, build their business and build a career following their service."
Vengeance Woodworks Company was born when a shared interest of woodworking became a way to express their love for their country. To further their charitable efforts, a percentage of each flag purchase is donated to support 22KILL, a nonprofit organization that is dedicated to empowering veterans, raising suicide prevention and awareness, and building a supportive community.
"Supporting our military, active-duty veterans is very near and dear to my heart and it's something that iPartnerMedia will continue to do on a regular basis," Arguelles continued. "Giving soldiers and veterans a path towards entrepreneurship is an exciting opportunity for their future."
Due to their status as active duty soldiers, the team at Vengeance Woodworks Company have chosen not to release their names.
About Vengeance Woodworks Company
Vengeance Woodworks Company is a veteran owned woodworking company, operating in Fort Leonard Wood, Missouri and specializing in handcrafted wooden American Flags and patriotic decorations. Through their craft, the creative team hopes to facilitate a patriotic movement, support military organizations, and raise awareness on issues, erase stigma, and empower fellow veterans. The crafts are displayed and sold at http://www.vengeancewoodworksco.com.
About iPartnerMedia, Inc.
Bonita Springs-based iPartnerMedia, Inc. is a digital and print marketing and public relations agency serving businesses across the United States and Canada in home services, health care, professional services, construction, non-profits and more. The talented team has extensive experience in digital marketing including website design and lead generation and operates a private print shop for its clients. Learn more at http://www.ipartnermedia.com.