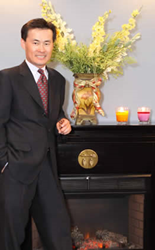 Anaheim, CA (PRWEB) May 01, 2017
Leading authority in dental implant placement, Dr. Jin Y. Kim, is currently accepting new patients without a referral for All-on-4® full-arch tooth replacements. Known for his periodontal expertise around the globe, Dr. Kim focuses on helping people who are missing teeth in Anaheim and surrounding areas, to enjoy the aesthetic, functional and oral health benefits of implant-supported dentures. Since the procedure can be performed in one day, patients leave the office with a beautiful, functional smile.
Losing one or more teeth can be a traumatic experience, and the effects do not stop with a gap in the smile and new challenges when chewing. When the upper and lower teeth meet, the pressure travels through the roots to the jaw bone and stimulates healthy bone density growth. Without that process, the bone begins to degrade and crumble, changing the facial structure and creating serious oral health problems.
Traditional dentures restore the smile and assist with eating, but they cannot replicate that essential oral health function of the tooth roots. Dental implants resolve the issue with a surgically placed post that secures the tooth to the jaw bone while also allowing chewing motions to perform the bone stimulation function. Not only that, the firm anchor permits people to eat crunchy, chewy or sticky foods without fear of displacement that is common to removable dentures.
If people have been missing teeth in Anaheim, CA, for some time, the amount of bone available to fuse to an implant post could be diminished significantly, and may not be solid enough to provide the necessary support. Rather than performing bone grafts to create a foundation for replacement teeth and restore jaw structure, Dr. Kim may often recommend All-on-4 dental implant solutions. This full-arch option requires just four posts, which are strategically placed to maximize healthy bone growth. The custom-made dental prosthetic affixes to these posts firmly and looks and functions like natural teeth.
Considering the affordability, minimal recovery time and high success rate of the All-on-4 technique, many patients with missing teeth in Anaheim, CA, find it an ideal solution to end self-consciousness and declining oral health. To learn more about the benefits of implant supported dentures or to schedule an appointment, people can call Dr. Kim's Diamond Bar practice location at 909-860-9222, or West Garden Grove office at 714-898-8757, or visit his website at http://www.drjinkim.com.
About the Doctor
Dr. Jin Y. Kim is a periodontist dedicated to providing personalized dental care in Diamond Bar and Garden Grove, CA. Dr. Kim attended the University of Sydney Faculty of Dentistry before furthering his education with an advanced degree in pathology from the Medical School of the same University. Dr. Kim completed a periodontics and implant surgery residency at UCLA School of Dentistry. A uniquely dual board-certified specialist, Dr. Kim was board-certified by the American Board of Periodontology and the American Board of Oral Implantology/Implant Dentistry. The International Congress of Oral Implantologists and the American Academy of Implant Dentistry both gave him the title of Fellow. He was also inducted to be a Fellow of the prestigious American College of Dentists. Dr. Kim enjoys lecturing at UCLA School of Dentistry as well as national and international academic and clinical associations and universities including the International Association of Dental Research, American Academy of Periodontology and Academy of Osseointegration. To learn more about Dr. Jin Kim and the services he offers, visit his website at http://www.drjinkim.com or call 909-860-9222 for the Diamond Bar location or 714-898-8757 for the West Garden Grove location to schedule an appointment.