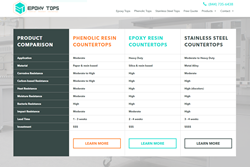 "When I picked up the finished countertop, I was offered a tour of their facility and was even more impressed once I realized the extend of their design and custom capabilities." - Founder & CEO of KinetoChem LLC
Austin, TX (PRWEB) May 02, 2017
EPOXY TOPS, an epoxy resin, phenolic resin, and stainless steel countertop supplier has officially launched their website. The company, which prides itself on short lead times and low prices, invites commercial facilities buyers to check out their easy to use website and compare them to already existing suppliers.
EPOXY TOPS founders have been in the laboratory market for over three decades. The company operates in a facility that has 60K square feet of manufacturing capability for customizing chemical resistant countertops, as well as building lab workbenches and casework. EPOXY TOPS offers three types of chemically resistant countertops at the moment. Soon, they will expand their product line to also include HDPE countertops. EPOXY TOPS is committed to customer satisfaction and therefore, will never offer chemically resistant laminate tops because they are similar in price to phenolic, but not equal in performance.
EPOXY TOPS strives for the lowest possible lead times compared to other companies in their market. Their current lead time for a phenolic rectangular slab with no cutouts is five business days. For a custom phenolic countertop, it will take approximately ten business days. The epoxy countertop lead time is currently 4-6 weeks. This may vary depending on the season. For a standard shaped stainless steel countertop, the lead time is currently three weeks. Custom requests may take up to five weeks or more after the PO is received. Select sizes are currently available in stock and will therefore be available quicker than expected. EPOXY TOPS also offers consumers a variety of other products such as balance tables, pegboards, and lab sinks.
According to the founder & CEO of KinetoChem, EPOXY TOPS is fulfilling their promise to quickly complete your order and ship on-time. The CEO stated that he "approached 3 companies with a small, simple request for a countertop for an existing cabinet. EPOXY TOPS responded immediately and eagerly. Getting the other competitors to even reply was like pulling teeth… I will definitely be returning to EPOXY TOPS as my business grows."
Besides having short lead times and on-time delivery, EPOXY TOPS has a great price too. They offer a low-price guarantee on any written competitor's countertop quote. If a competitor has the same material, dimensions, color, or edge, they guarantee that they will match the price.
EPOXY TOPS is a one-stop shop for standard and custom designed chemical resistant countertops and add-ons. They are committed to providing quick and affordable laboratory countertops. To learn more about the company, contact them at 844.735.6473 or email them at hello(at)epoxytops.com. Feel free to visit their new website at https://epoxytops.com.