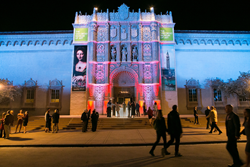 San Diego, CA (PRWEB) May 02, 2017
WHAT: Select Park museums will stay open late as part of the Balboa Park After Dark program. In addition, hungry museum-goers can enjoy live family-friendly entertainment and gourmet food from a rotating selection of more than a dozen food trucks parked on the Plaza de Panama and Prado walkway at the Balboa Park Conservancy's popular Food Truck Friday program.
The Balboa Park After Dark and Food Truck Friday programs are designed for those who are unable to visit the Park and its museums during the week due to full-time jobs or other responsibilities—or who just want a fresh, fun evening out. https://www.balboapark.org/afterdark
WHEN: Balboa Park After Dark, 5:00-8:00 p.m.—Fridays, May 26-September 1, 2017
Food Truck Fridays, 4:00-8:00 p.m.—June 2-September 29, 2017
WHERE: Museums open until 8 p.m. on Fridays* include:

Japanese Friendship Garden
Mingei International Museum
Special $5 admission price.

San Diego Art Institute
Spanish Village
San Diego Museum of Man
In addition to the museum being open until 8:30 pm each weekend, enjoy special sunset tours of the California Tower (timed tickets required) and the newly opened Living With Animals exhibit.

San Diego Natural History Museum (the NAT)
The San Diego Museum of Art
Art After Hours every Friday. Special $5 admission price.

Open until 8:00 pm Fridays with half-priced IMAX films at 7:00 pm in the Heikoff Giant Dome Theater in May and June. Open extra late on Fridays in July and August for video game madness in Game Masters.
COST: Balboa Park Explorer passholders receive free general admission. Special Friday night Explorer Pass available for purchase. Valid Friday evenings 5:00-8:00 pm only. Purchase your Explorer Pass today at https://explorer.balboapark.org/.
*Museum of Photographic Arts (MOPA) is open until 8:00 pm on Thursdays (not Fridays). The San Diego Museum of Man is open until 8:30 pm Friday–Sunday, plus Labor Day and Memorial Day. Extended hours at other museums may vary and are subject to change. Please visit the website of the institution you wish to visit for more information.
ABOUT BALBOA PARK CULTURAL PARTNERSHIP
Balboa Park Cultural Partnership is a nonprofit organization through which 28 arts, science and cultural institutions in Balboa Park collaborate to achieve shared goals. By helping these groups achieve greater organizational efficiency, innovation and excellence, it seeks to contribute to the vitality and sustainability of Balboa Park. For more information visit http://www.bpcp.org. Visit us at Facebook.com/ExploreBalboaPark, Instagram.com/ExploreBalboaPark, Twitter.com/ExploreBP.
# # #