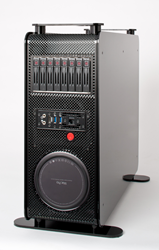 The JMR systems are robust enough that they can stand up to the production office environment for a whole season without maintenance and more importantly has the speed to support our very demanding data environment
Chatsworth, CA (PRWEB) May 02, 2017
JMR Electronics, Inc., a leading design center and manufacturer of scalable storage solutions, announced today that Colortime LLC has purchased their latest Lightning(TM) Thunderbolt(TM) certified desktop workstations (LTNG-XQ-8-DTMP) for the Apple Mac Pro® to streamline their color correction workflow and approval process.
Colortime LLC specializes in all aspects of digital media content creation, management, and distribution. Their workflow requires the latest technologies, with 4K and HDR as standard features in all their color correction rooms, edit bays, and QC rooms. Bill Womack, CTO, Colortime LLC said, "A JMR workstation is placed in the producer's office at the beginning of a season and each week it allows the producer and director to view final images just as if they drove across town to see them on our finishing system. They see exactly what our Senior Colorist, Russell Lynch sees in his color suite, with a modest internet connection carrying synchronization and color correction information to the remote system allowing real-time playback of the color corrected episode."
"The JMR systems are robust enough that they can stand up to the production office environment for a whole season without maintenance and more importantly has the speed to support our very demanding data environment – 12MB frames at 24 frames per second," continued Womack. "The JMR Lightning chassis is an integrated, self contained workstation that looks like the Mac Pro tower workstation and for our purposes, contains a new Mac Pro, PCIe extender with RAID controller, and solid state RAID. Before the JMR Lightning workstation, we had systems that would overheat requiring maintenance once or twice a week. Setup was also more difficult requiring an outboard RAID with extra cables to manage."
The JMR LTNG-XQ-8-DTMP is the only storage systems on the market featuring four full-bandwidth PCIe slots, using two independent Thunderbolt-2 20Gb/s bridge circuits. This one-of-a-kind product safely houses a new-generation Mac Pro computer, remotes its on-off power function and all of its I-O ports, and adds additional cooling to the computer to maintain lower operating temperatures. The system also includes a Thunderbolt-compatible ATTO SAS RAID controller installed in one of the PCIe slots, and an integrated, hot-swappable RAID disk storage subsystem which can be populated with any compatible 2.5" SFF drives, either rotating or SSDs – thus providing "on board" storage up to 32TB.
The top or side cover which is installed or removed with just two thumbscrews and takes 30 seconds allows access to any interior components, making new connections to the installed Mac Pro, or removing/installing different PCIe cards in the Thundebolt-PCIe card section quick and easy.
"The value of the JMR workstation for Colortime is speed, clean installation, and a rugged self-contained system with no required external wires or expansion chassis. The feedback from the producers' is that they are very happy with the speed, the ability to view full resolution images, and that the system is quiet and unobtrusive allowing them to focus on their episode rather than negotiating LA traffic," concluded Womack. "Next, we are considering the JMR Lightning system to do the same thing for remote editorial work."
More details on the JMR Lightning Thunderbolt products are available at http://jmr.com/thunderbolt-storage-products-external-mac-pro-storage.
About JMR Electronics
JMR is a leading value provider and systems integrator of scalable storage systems for high performance and capacity driven applications for multiple markets including; video and post-production, military and government, education, VOD, DCC, gaming, security, medical imaging, HPC and Web 2.0. Since 1982, JMR's reliable and innovative RAID systems are proudly made in the U.S.A., manufactured entirely from their Chatsworth, California facilities. JMR's complete line of affordable Lightning™ storage products; SilverStor™ SMB focused products, and BlueStor™ Cloud-ready rackmount and desktop solutions are built to handle the most demanding project needs for A/V centric markets. Reliability. Innovation. Performance. This is JMR. For further information, please visit http://www.jmr.com, contact sales(at)jmr(dot)com , or call 818-993-4801.