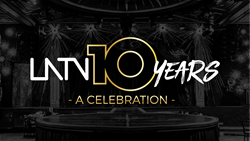 We couldn't be more proud to reach this milestone and celebrate 10 years in the marketplace.
(PRWEB) May 03, 2017
LATV Networks, home of LATV and American Latino Syndication, is proud to announce their annual Upfront presentation, to be held on Wednesday, May 10th at 6pm in New York City at the legendary Diamond Horseshoe, inside the prestigious Paramount Hotel in Midtown Manhattan. The event will be a particularly auspicious one for LATV as the network will celebrate its 10th Anniversary with its clients and agencies on that evening.
"This is a very unique occasion for all of us at LATV, so we have prepared something really special for all of our partners!" said Andres Rincon, Vice President of Network Sales and Integrated Marketing.
LATV will have several major announcements concerning ground-breaking new partnerships, as well as a showcase of its 2017/18 original content. The network, the last remaining 100% Hispanic owned network in the country, has always been a leader in programming to the bi-lingual and ambicultural audiences; fully embracing the total market approach a decade ago – before it was even on the radar of many of the competition. On May 10th the network celebrates ten years of bringing cutting-edge programming to its audience and the most innovative marketing opportunities to its partners.
Advertising clients and business partners should RSVP for the event immediately, as space is limited.
"We couldn't be more proud to reach this milestone and celebrate 10 years in the marketplace." said Luca Bentivoglio, C.O.O. and head of network programming. "We look forward to an epic evening and we hope you all will be a part of it!"