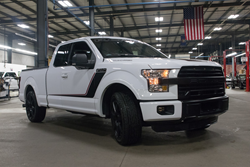 ROUSH has perfectly captured the art of performance engineering...
Philadelphia, Pennsylvania (PRWEB) May 02, 2017
The Tire Rack One Lap of America and its Media Team are pleased to announce that ROUSH Performance will one again provide the One Lap Media Team with a very special vehicle, The Worlds Fastest Street Truck, the ROUSH F-150 Nitemare.
Developing 600 horsepower and 557 lb-ft of torque from it's ROUSHcharged 5.0L engine, the Nitemare is not only a workhorse but a true thoroughbred.
"ROUSH Performance and the One Lap of America have a great history together. Driving through the country while covering the One Lap in a ROUSH vehicle is truly an amazing experience. Between the signature ROUSH exhaust note, the extreme look of the vehicle, and the performance, very few other things can scream Americana in such a way. The thumbs-up from nearly every driver on the road is proof that ROUSH has perfectly captured the art of performance engineering." said Solomon Rosenthal, Media Director for the Tire Rack One Lap of America.
"We are excited to showcase the ROUSH F-150 Nitemare during the 2017 One Lap of America. From out re-introduction of the truck at SEMA last year, we have had a very positive response. Supporting the One Lap media effort is a great way for us to showcase this special vehicle, in person, to a wide variety of motorsport and performance oriented driving fans. ROUSH Performance is looking forward to another great year of coverage and continuing to build on our existing relationship with the One Lap of America." Said Jack Roush Jr.,
ROUSH Performance is no stranger to the One Lap of America, having won their class and taking 3rd place overall in 2011 with a ROUSH Stage 3 Mustang. The Tire Rack One Lap of America and the Media Team welcome ROUSH Performance back to the event.
ABOUT ROUSH PERFORMANCE
ROUSH Performance, a division of Roush Enterprises, designs, engineers and manufactures completely assembled pre-titled vehicles, aftermarket performance parts, performance crate engines, and marine engine superchargers for the global performance enthusiast market. Based in Plymouth Township, Michigan, ROUSH Performance was founded in 1995 by motorsports legend Jack Roush. Visit us at ROUSHperformance.com or call 800.59.ROUSH.
ABOUT TIRE RACK
Tire Rack, family-owned and headquartered in South Bend, Indiana, is America's largest independent tire tester and consumer-direct source for tires, wheels and performance accessories. Their team of over 100 test drivers (their sales team) tests tires from every major tire manufacturer on the company's state-of-the-art, 11.7-acre test facility. The findings are then posted on the company's website, http://www.tirerack.com, where consumers can make an educated decision on a tire, wheel or performance accessory purchase.
Tire Rack has also collected results from nearly 150,000 consumer surveys representing over 2.5 billion miles of real-world tire data, the largest known cache of such information anywhere. In addition, various testing and informational videos are available online in their Video Center at http://www.tirerack.com/videos. Since 1979, Tire Rack has grown from a single-point retail store in Indianapolis to encompass over 2.5 million square feet of space in nine distribution centers across the country. A diverse and broad in-stock inventory from 24 major tire and 63 wheel brands can be delivered anywhere in the country, most in one business day. A national network of over 7,500 independent Recommended Installers is available to assist customers with installation of their purchases.
ABOUT THE ONE LAP OF AMERICA
The Tire Rack One Lap of America Presented by Grassroots Motorsports Magazine is the modern day version of the Cannonball Sea to Shining Sea Memorial Trophy Dash of 1970. Created by Brock Yates and popularized by the movie Cannonball Run, todays One Lap of America challenges its participants to endure long transit drives of over 400 miles daily and to compete on 12 of Americas most challenging racetracks in 9 days. This year's One Lap begins on May 5th, 2017 and runs through May 13th, 2017. The current event is headed by Brock Yates, Jr. and will be celebrating the 34th running of the event. The full schedule is available online at http://www.onelapofamerica.com and on Facebook.