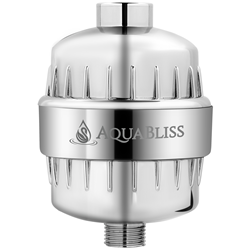 Great customer service, installs easily w/ no leaks and you are supporting a small company when you buy it! It's a win win win. No more angst if I am getting a filter that works. Thank you AquaBliss....you named it right and you nailed it - Albion
(PRWEB) May 02, 2017
The team at AquaBliss is thrilled to announce that they have just launched a brand new bathroom accessory. Now, customers can shop for the AquaBliss SF100 8-stage shower filter exclusively on Amazon.
AquaBliss is a family-owned business offering a line of luxury bathroom fixtures and accessories. In its range of products are contemporary, elegant fixtures designed to enhance the aesthetic appeal of any bathroom.
AquaBliss already offers the SF220 shower filter, but the newly launched filter offer enhanced features. With the SF100 8-stage shower filter, users receive a high performance unit featuring a unique mix of sediment filters including ceramic balls, calcium sulfite, activated carbon, and KDF 55. The proprietary mix delivers optimal filtering in both hot and cold water, as well as immediate optimization of pH levels. The new shower filter comes with two filter cartridges; according to the team at AquaBliss, this offers approximately one year of service.
The AquaBliss SF100 shower filter comes in chrome and offers a seamless design. "The shower filter is designed to be universally compatible with standard shower arms, and designed for zero hassle, tool-free installation," said the team at AquaBliss.
Filtration is important for many households and businesses, and the AquaBliss SF100 offers a premium way for users to remove chlorine and heavy metals, kill bacteria, inhibit the growth of scale, and remove lime, mold, and fungi from water. The included mineral balls work to energize the water with minerals, which thereby provides more desirable pH levels.
Filtered water provides a plethora of benefits, according to AquaBliss. "The purified water is kinder to our bodies and is beneficial for people suffering from flaky scalp, dry skin, dandruff, and eczema - plus it reduces the risk of inhaling chlorine," said an AquaBliss team member.
The team at AquaBliss has worked diligently to design and create a quality crafted shower filter that is easy to install yet hardworking. Each product undergoes rigorous testing to ensure performance and durability, and all AquaBliss products are made with the highest standards in mind.
One recent customer commented, "This is the shower filter to buy, look no further."
Currently, AquaBliss is offering a special limited time discount on the SF100 shower filter. When customers purchase theirs at Amazon.com, they can receive a 20% discount at checkout by using discount code SF100PR1. More information can be found at https://aquabliss.com/ and https://www.amazon.com/dp/B01MUBU0YC