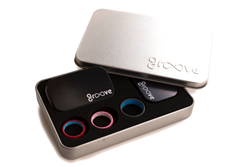 We want our customers to be as confident in their choice as we are in our craftsmanship. Now they can sample their rings and get the perfect size and color the first time, said Groove Life founder Peter Goodwin
(PRWEB) May 02, 2017
Groove Life, makers of the first breathable, silicone ring, is excited to announce Groove Try On. Try 5 Rings for 5 Days at home for free.  Groove Try On applies to all their signature silicone bands worn by people living an active, hands-on lifestyle.
 
Their new policy is unheard of in the online accessories community where the convenience of remote shopping is often overshadowed by issues with sizing.  
 
"We want our customers to be as confident in their choice as we are in our craftsmanship," said Groove Life founder Peter Goodwin. "Now they can sample their rings and get the perfect size and color the first time."
 
Since 2015, Groove Life has been creating comfortable, affordable, and innovative silicone bands for adventurers, craftsmen, outdoorsmen, and more.
 
They've given these intrepid men and women a foolproof way to show off their style and marriage status without breaking the bank or risking damage to their digits.
 
Their rings feature a low profile, patent pending inner grooves that promote air circulation, and a break-away design that keeps fingers safe in the event a ring gets snagged on a tool, rock face, or branch.
 
"Our rings are designed to keep up with their wearer," explains Goodwin. "They've been put to the test against every terrain, hobby, and profession we can think of. The best part is that even if you do happen to tear your Groove Ring, we have a lifetime warranty."  
 
With the new policy, customers will be able to try on five different rings to check the fit and style. They'll then have five days to decide which rings they love and are only charged for what they keep.  
 
The initial shipping cost is only $1.99 for all five rings, and Groove Life covers the return postage.
Currently, they offer an Original and Thin version of their Groove Ring in an array of fashion forward colors.
About
Groove Life launched in 2015 with the release of their flagship product the Groove Ring. Founder Peter Goodwin wanted to wear a ring that showed his commitment to his family while meeting the demands of his work as an Alaskan guide and wilderness lodge owner. His creation not only offers durability and functionality, but rugged good looks as well.
For additional information, please visit: https://groovelife.co/pages/tryon or contact brooke(at)veteranpr(dot)com.