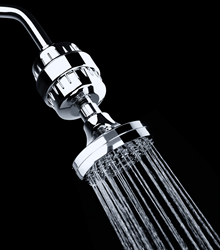 It's been a week since using this product and I've noticed immediately a difference with my skin and hair. It was very easy to install. I replaced all my shower heads with this filter - Lami
(PRWEB) May 08, 2017
The team at AquaBliss has released a few tips for helping consumers choose and use shower filters.
Shower filters have risen in popularity as people are becoming increasingly aware of the harsh chemicals and toxins in water systems today. Shower filters give people a way to circumvent harsh water qualities and produce clear, clean water for showering.
According to AquaBliss, consumers should take a few steps to ensure that they get a quality, reliable shower filters. First, consumers should be sure to purchase from a reputable company. Shoppers should also look for feature-rich units that suit their needs. For instance, shower filters come in a variety of finishes and styles. For most consumers, a streamlined unit with aesthetic appeal is desirable.
All shower filters include some sort of filtration media, according to the team at AquaBliss. Consumers should check to verify that a shower filter's filtration media includes active carbon, calcium sulfite, and KDF55 (kinetic degradation fluxion) for best results.
The AquaBliss team also says that consumers should check the filter cartridge replacement and availability prior to purchase. Some filter cartridges can last up to 6 months. Consumers should check to ensure they're getting the most benefit for their investment.
Also, the AquaBliss team recommends that consumers ensure they are getting a high output shower filter that won't affect water flow. "Some shower filters have a durable outer shell to protect the filter cartridge from accidental impact. We recommend looking for one to avoid cracks on the filter, which may lead to leaks," said AquaBliss.
Shower filters can help consumers save money and get healthier skin and hair while preventing potential illness. When installed and used properly, consumers can see long-term benefits from the use of shower filters. Changing the filter cartridges as recommended is crucial to ensuring a unit's longevity and efficiency, as is making sure an appropriate filter media is being used. With just a few precautionary steps, consumers can find shower filters that will give them the benefits they want for years to come. According to AquaBliss, consumers should ensure that they are getting a quality shower filter by using the above tips. More information can be found at https://aquabliss.com.
About AquaBliss
AquaBliss is a family-owned company dedicated to delivering elegant, modern bathroom fixtures and accessories.