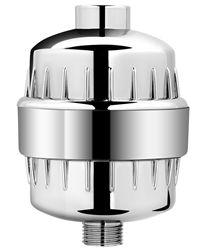 I used to take showers with the smell of chlorine that would turn my eyes blood shot red. This thing removed it all and it smells..clean! - NonStopInk
(PRWEB) May 03, 2017
The team at AquaBliss has announced that they are offering a special, limited time discount on their top selling luxury shower filter.
The SF220 shower filter launched in June 2016 and has continued to be the company's best selling model. For consumers who want to remove chlorine and purify water, the AquaBliss SF220 offers an exceptional choice. The shower filter is easy to install and can be put into place without any tools. Universal fitting ensures that it seamlessly fits standard shower arms. The 3-stage filtration makes this shower filter a powerful agent for removing chlorine and heavy metals from both cold and hot water.
Shower filters are rising in popularity with the increasing awareness of the affects of chlorine and other harsh chemicals in the water supply today. With the AquaBliss SF220, users get a premium unit designed to help reduce chemicals, enhance skin, and create an overall better sense of wellbeing.
The shower filter can help people with skin issues, such as dry skin and eczema, and uses a medium comprised of KDF 55, calcium sulfite, and carbon. By reducing up to 95% of chlorine, heavy metals, and other impurities in water, the AquaBliss SF220 offers a range of benefits. Users can expect softer skin, better hair, and healthier nails. The high output shower head won't affect water pressure, and each filter is designed to last for up to 8 months.
"Our products are built to the highest standards of quality and performance, and with no compromise on style," said the AquaBliss team. "We strive to ensure each and every product is durable, practical, and unique."
Currently, the AquaBliss SF220 dechlorinating shower filter is available exclusively on Amazon. Amazon Prime members can receive free two day shipping, and all customers can expect world-class customer care from both the Amazon team and the staff at AquaBliss.
Right now, AquaBliss is offering a special promotion to celebrate Mother's Day. For the entire month of May 2017, customers can receive 20% off when they order the AquaBliss SF220 using the following coupon: SF100PR1. This model is the company's best selling filter, and they are proud to offer their premium shower filter at a bargain price.