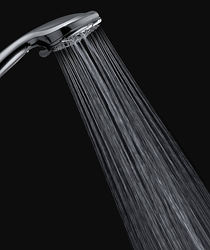 Nice handheld shower set. Like that the hose is longer, so if you are on a shower bench at the back of your shower, the hose doesn't pull on the pipe adapter. Full swivel on the hose so it doesn't kink or twist - S Riley
(PRWEB) May 09, 2017
The team at AquaBliss has been on the forefront of the bathroom fixtures industry since its launch, and the company is now offering strategies and tips for consumers who are looking to purchase a handheld shower.
AquaBliss is a manufacturer of premium bathroom accessories, including premium shower filters and shower heads. The team at AquaBliss understands the challenges consumers face when they are looking for a new shower head. There is a seemlessly endless array of shower fixtures on the market today, and without a bit of advice, choosing one can be confusing and lead to the purchase of an inferior product.
According to the team at AquaBliss, the first step comes in knowing what to look for. When consumers know what the standard and premium features of a shower head are, they can choose the one they need. Handheld and fixed shower heads are both available on the market. Handheld showers are affixed to a hose that allows for versatility. These showers can be used for a variety of purposes due to their versatility. For instance, those with disabilities often choose to use handheld showers.
Another consideration, according to the team at AquaBliss, is water flow rate. While a maximum of 2.5 GPM is allowed per federal regulations, many shower heads are restricted at 1.3 GPM. Low flow varieties should be equipped with a special aerator spray that compensates for the low flow rate. However, this can make the water temperature lower, which could result in more hot water usage.
Many hand held showers have various spray settings, and consumers should be aware of which ones are on the model they are purchasing. Some spray settings might be more desirable than others in the eyes of a consumer.
Last but not least, AquaBliss says that consumers should verify their need for a shower filter. A shower filter can help to reduce the amount of chlorine and other harsh chemicals that can be found in most water systems today.
AquaBliss offers a line of finely crafted bathroom fixtures and accessories designed to bring consumers the best quality for their investment. The company hopes that providing tips for purchasing a handheld shower will help consumers make more informed decisions regarding their purchases. More information can out about their top selling shower head on Amazon http://www.amazon.com/dp/B01LXTNH7N and on their website https://aquabliss.com/