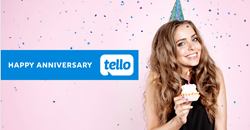 Atlanta, Georgia (PRWEB) May 02, 2017
To celebrate its 1-year anniversary, U.S. carrier Tello announces special promotions designed to attract new subscribers, but also to reward the existing ones.
Newcomers are offered a 90% discount for any phone plan above $10. All customers have to do is place a plan order between 4-10 May and use coupon code BDAY at the checkout. This means they will save up to $56, if they choose the combo offering unlimited calls and texts, and 5GB 4G LTE data. Quite an interesting reason to switch carriers, besides the advantages that already differentiate Tello from its competitors: the possibility for customers to build their own plan by adding the amount of minutes, text & data they actually use, and the fact that choosing Tello involves no contracts.
In just one year, Tello managed to become one of the customers' favorite wireless service, with a score of 8.7 on Trustpilot and many excellent reviews. That is why Tello thanks its existing customers in two different ways:

And the anniversary surprises are not over: an iPhone 7 is looking for its user, on Tello's Facebook page. Starting May 2 until May 4, Tello hosts a contest on its Facebook page, inviting fans to share what they love the most about Tello. The winner will be selected randomly and receives an iPhone 7 as a prize.
Tello is proud to offer a clean, up-front service with no fees whatsoever. Its monthly plans are fully customizable, as the customers can choose any amount of minutes, texts, and data, including Pay As You Go credit, that can even be used to make international calls. Plans are automatically renewed every 30 days.
The national minutes included in plans are also valid for calls to Canada and Mexico. Cell phone plans can be upgraded, downgraded, or renewed at any time, for no charge at all. Another perk of the service is free tethering: Tello customers can share data with no fees with other devices.
Tello's pledge to give people pure freedom when building their own phone plan with no fees whatsoever has become a fact. It also added an awesome 24/7 (human) Customer Service, and great offers, so customers get all the reasons to join the celebration!
About Tello:
Tello is a telecom provider operating on the US market. It is also present in the UK, serving customers through its Tello.co.uk website. Both Tello.com and Tello.co.uk are brands of KeepCalling, a global telecommunications company registered in 2002 in USA. Presently, KeepCalling provides its services to hundreds of thousands of consumers, with a focus on customer satisfaction. KeepCalling was listed by Inc 5000 as one of the fastest growing companies in the USA for 5 consecutive years.