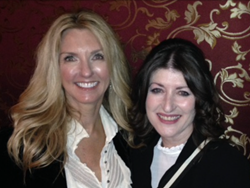 "Brigid's song is a beautiful expression of love that honors her mother, so to receive a donation from this song in particular means a lot to us." ~Dianne Gray, President, EKR Foundation
LOS ANGELES, CA (PRWEB) May 04, 2017
Following her recent announcement where two Irish hospice foundations were named as beneficiaries in Ireland, A&M recording artist and singer-songwriter, Brigid Boden, today announced that the remaining portion of the net proceeds from the digital download sales of her latest single, 'Sweet Mother of Mine,' will be donated to the Elisabeth Kubler-Ross Foundation in the United States.
Recently interviewed by Irish Entertainment TV in Los Angeles, Brigid announced her decision to donate her portion of the net sales from the downloads of the song to hospice care, in immense gratitude for the wonderful care shown to her mother and family by hospice.
"Spending so much time here in Los Angeles, I thought it would be nice to give to an American hospice organization as well as in Ireland," said Boden. "After meeting Ken Ross - founder of the Elisabeth Kubler-Ross Foundation, and Dianne Gray, the president of the foundation, at a recent LIV ON concert in Los Angeles, there was no question in my mind that this was the foundation that I would support here in the US."
The producer of the track, Grammy Award winner Jeff Bova, has also kindly pledged to contribute his share of any net proceeds from download sales of the song to mirror Brigid's contribution.
SONG TITLE: Sweet Mother Of Mine 
ARTIST: Brigid Boden 
AVAILABLE: https://www.brigidboden.com
The single is also available through a variety of digital music services, including Amazon, iTunes, CDBaby, and many more.
With the single, which is an exploration into the healing power of music as is currently being witnessed to great acclaim through international touring of songstresses Olivia Newton-John, Beth Nielsen Chapman, and Amy Sky with their album LIV ON, Boden hopes to bring awareness to the tremendous work being done by hospice, not only in her native Ireland, but also in the USA and internationally.
"I'm so honored that Brigid and producer Jeff Bova have decided to donate a portion of the profits from the download sales of her song 'Sweet Mother of Mine' to the Elisabeth Kubler-Ross Foundation," said EKR Foundation President, Dianne Gray. "Through the funds donated, we will be furthering our one-to-one family support program which helps patients and family members who are coping with end of life and grief find resources."
Other recipients of Brigid's generous donation are OUR LADY'S HOSPICE AND CARE SERVICES and THE IRISH HOSPICE FOUNDATION, both located in Brigid's native Ireland.
Described by some as "a sweeping, beautifully moving ode," the song 'Sweet Mother of Mine' is Brigid's expression of the grief of losing her mother and she hopes that it might help others grieving the loss of a loved one. The song's music video features butterflies, which Brigid sees as symbolic of freedom from pain.
"Brigid's song is a beautiful expression of love that honors her mother, so to receive a donation from this song in particular means a lot to us," added Gray. "We're truly humbled to receive her offer of support and will continue to honor Brigid's mother, Marcella, as we continue our commitment to patients and families around the world."
Boden, an Irish native – who was formerly a ballet dancer – was also touched by what has already been done by her fellow Irishman, Daniel Day Lewis', with his support of hospice in Wicklow, Ireland.
"Hospice is a place of gentleness and support – I would be happy if this song helps to contribute to quality hospice services here in the US and abroad," added Boden.
Boden's professional recording career includes the release of multiple albums on both the A&M Records and Universal Records labels. In addition to recording her own albums, Brigid has written songs for film and television, and performed on video game soundtracks. Her voice can also be heard on numerous compilations.
Brigid's new single, 'Sweet Mother of Mine,' was recorded in Los Angeles with Brigid's friend and producer, the highly-acclaimed Jeff Bova. With over one hundred platinum- and gold-selling records to his name, Bova is a Grammy Award-winning producer and musician.
The net funds being donated by both Brigid and Jeff will be gifted to three hospice organizations under The Marcella Boden Endowment Fund, honoring the memory of Brigid's mother. 25% of the funds will benefit the Elisabeth Kubler-Ross Foundation; and the remaining 75% will be split between two Irish organizations: Our Lady's Hospice and Care Services, and The Irish Hospice Foundation.
ADDITIONAL MEDIA RESOURCES: 
Artist's Website: https://www.brigidboden.com 
Twitter: @BrigidBoden - https://twitter.com/brigidboden 
Facebook: @BrigidBoden - https://www.facebook.com/BrigidBoden/ 
Video: Sweet Mother of Mine - https://www.youtube.com/watch?v=zYivdg4B7B4 
Irish Entertainment TV interview with Brigid Boden: https://www.youtube.com/watch?v=h6aGtWuKPUY
Additional photo and video files available via email through the contact information provided above
ABOUT BRIGID BODEN 
Recording artist and singer-songwriter Brigid Boden is known for her beautiful Celtic voice mixed with strong world beats. Boden's professional recording career includes the release of multiple albums on both the A&M Records and Universal Records labels. In addition to recording her own albums, Brigid has written songs for both film and television, and has performed on video game soundtracks. Her voice can also be heard on numerous compilations. For more information, please visit https://brigidboden.com/
ABOUT ELISABETH KUBLER-ROSS FOUNDATION
The Elisabeth Kubler-Ross Foundation helps connect people to hospices around the world and as well, we help to educate patients, families and providers on the benefits of hospice care, which includes, but is not limited to pain management, spiritual care, and a holistic, team-based approach to end of life care. Most important, we help further key messages on the importance of listening to the needs of the patient. To learn more or support please visit http://www.ekrfoundation.org/