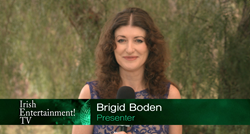 "As the daughter of RTÉ broadcaster, Niall Boden, I've been around television and recording studios my whole life. I think it must be in the blood." ~Brigid Boden
LOS ANGELES, CA (PRWEB) May 03, 2017
Irish Entertainment TV is proud to announce today that they have formally asked international recording artist and singer-songwriter, Brigid Boden, to host their new global channel coming to audiences from Los Angeles, California.
The Irish native – who is was also a former classical ballet dancer – is the daughter of the late Niall Boden, RTÉ radio and television broadcaster.
"I'm thrilled to be asked," said Boden. "I've been around television and recording studios my whole life. I think it must be in the blood."
"There are so many people with exciting stories in Los Angeles, both from the celebrity aspect and from ordinary people doing extraordinary things," says Irish Entertainment TV. "We are honored to work with Brigid and are excited for what the future holds for Irish Entertainment TV."
 
Boden has already been out in Los Angeles, interviewing celebrities and covering film festivals, movie premieres, music events, and more. Some of her recent interviews include:

All of the latest videos from Irish Entertainment TV can be seen on the channel's website at https://www.irishetv.com/#videos-section.
ADDITIONAL IRISH ENTERTAINMENT TV MEDIA RESOURCES:
IrishETV Website: https://www.IrishETV.com
Twitter: @IrishETV - https://twitter.com/IrishETV
Facebook: @IrishETV - https://www.facebook.com/IrishETV/
YouTube: https://www.youtube.com/channel/UCA7651xOjLyE5M4eFxvZO1Q/
Photos taken with Brigid from around Los Angeles and Hollywood can be found in the Irish Entertainment TV gallery at https://www.irishetv.com/gallery.
ABOUT IRISH ENTERTAINMENT TV
Founded in Los Angeles, California in 2016, Irish Entertainment TV is an online channel dedicated to bringing its audience celebrity news and human interest stories from Los Angeles and Hollywood, all with a touch of Irish flair. For additional information, please visit https://www.irishetv.com.
ABOUT BRIGID BODEN
Recording artist and singer-songwriter Brigid Boden is known for her beautiful Celtic voice. Boden's professional recording career includes the release of multiple albums on both the A&M Records and Universal Records labels. In addition to recording her own albums, Brigid has written songs for both film video games and television, Her voice can also be heard on numerous compilations. For additional information, please visit https://brigidboden.com/about/.