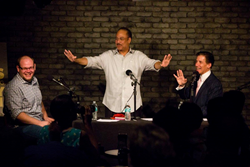 Washington, DC (PRWEB) May 03, 2017
Tony Perkins and Gary Stein took their audience on a rollercoaster of hilarity this past Saturday night during the live recording of their popular podcast. Before a third consecutive sold-out crowd at the DC Improv, the duo was joined on stage by comedian Rob Maher and TV personality and blogger Sarah Fraser. The comedic team covered a number of controversial topics, ranging from interracial dating to understanding urban slang to gynecology visits.
"The diversity of our audience always amazes us," said Perkins, "and not just racially. Our audience represents a wide age range, from millennials to senior citizens—a melting pot of experiences that provides for a level of audience participation that leads to unexpected comedy." Added Stein, "No matter what topic we cover the audience is willing to go there with us, and the proof is in the non-stop laughter in our recordings. Appealing to such a diverse crowd is immensely rewarding."
The "The Tony Perkins Show Featuring Gary Stein" is a cross between a radio and television show, regularly featuring popular celebrities and guests. Each episode of the podcast includes comic commentary, interviews, music, and most notably, an amazing chemistry between two guys who can and regularly do finish each other's sentences—a winning combination that continues to draw an ever-expanding following.
This Saturday's show (episode 136) and more than 130 additional episodes, can be enjoyed at http://www.tonyperkinsshow.com.
###
ABOUT THE HOSTS
Tony Perkins has been a radio and TV broadcaster for 30 years. A two-time Emmy award winner, he was the weatherman and feature reporter for ABC's Good Morning America for seven years, and has most recently been a main anchor for Fox 5 in Washington, D.C. for ten years. He was a professional stand-up comedian in the '80s and '90s, and was Donnie Simpson's sidekick and producer on the number-one-rated morning show for seven years at WKYS-FM. Tony has appeared on Jimmy Kimmel Live and many other shows.
Gary Stein is a former comedy writer and actor, and was a long-time TV producer. He helped launch Fox's FX Network, and met Tony when he became his dedicated producer at Good Morning America, where he produced nearly all of Tony's entertainment and weather segments, as well as his live shots. Gary has written sitcoms and HBO comedy and variety shows. He has had a long career as a performer and a producer in television, film, and live theater. He has the distinction of having been the youngest stage manager in Broadway history.