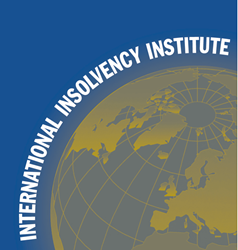 Fairfax, Virginia (PRWEB) May 04, 2017
The International Insolvency Institute is pleased to announce its 2017 Prize in International Insolvency Studies winners:
Gold Medal Winner
Simin Gao, Tsinghua University, School of Law
The U.S. Reorganization Regime in the Chinese Mirror: Legal Transplantation and Obstructed Efficiency
Silver Medal Winner
Aurelio Gurrea-Martínez, Harvard Law School
The Avoidance of Pre-Bankruptcy Transactions: An Economic and Comparative Approach
Bronze Medal Winner
Lynette Janssen, Leiden University
Bail-in From an Insolvency Law Perspective
The III Prize is awarded for original legal research, commentary or analysis on topics of international insolvency and restructuring significance and on comparative international analysis of domestic insolvency and restructuring issues and developments. The Prize Competition is open to full and part-time undergraduate and graduate students and to practitioners in practice for nine years or less. Medal-winning entries will be considered for publication in the Norton Journal of Bankruptcy Law and Practice (West) and for inclusion in the Westlaw electronic database.
Entries were judged by a distinguished panel of leading international insolvency academics and practitioners. The Jury included Co-Chairs Professor Christoph Paulus (Humboldt University, Berlin), Professor Jay L. Westbrook (University of Texas, Austin), and Hon. Samuel L. Bufford (Pennsylvania State University, University Park) and our distinguished Members, Professor Edward Janger (Brooklyn Law School), Professor Matthias Haentjens (Leiden Law School), Professor Stephan Madaus (Martin-Luther University), Professor Rosalind Mason (Queensland University of Technology), Professor Junichi Matsushita (University of Tokyo), Professor Riz Mokal (University College London), Professor John A.E. Pottow (University of Michigan), Professor Jingxia (Josie) Shi (China University of International Business & Economics), and Professor Ulrik Rammeskow Bang-Pedersen (University of Copenhagen).
The Gold Medal winner will be honored at the III's Seventeenth Annual International Insolvency Conference in London, England on June 18-20, 2017. All Medal Winners and Finalists will be invited to attend the Conference and will be provided with complementary Conference registration. Medal Winners will also be nominated to Class VI of the III NextGen Leadership Program which will convene in London on June 18, 2017 during the III's 2017 Conference.