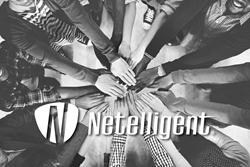 Westcon-Comstor's commitment to enabling their partners with leading edge services makes Westcon-Comstor's introduction of Netelligent's HCS a logical choice.
St. Louis, MO (PRWEB) May 03, 2017
Netelligent Corporation, a technology solutions company committed to elevating IT performance for businesses, announced a strategic reseller agreement with Westcon-Comstor (WestconGroup, Inc.), the world's largest technology distributor. Through this agreement, Westcon-Comstor will deliver Netelligent's Cisco Powered™ Unified Communications as a Service (UCaaS), based on its hosted collaboration solution (HCS), to Westcon-Comstor's growing reseller network in the United States.
The agreement expands Westcon-Comstor's broad offering of channel programs, solutions and cloud services to include the strength and power of Netelligent's hosted collaboration solution (HCS). HCS provides agile and flexible cloud-based collaboration solutions that promote increased productivity and rapid application deployment.
"Netelligent is very pleased to expand our relationship with Westcon-Comstor through this reseller agreement," said Bob Hollander, vice president, sales and marketing. "Westcon-Comstor's commitment to enabling their partners with leading edge services makes Westcon-Comstor's introduction of Netelligent's HCS a logical choice. We expect that Westcon-Comstor partners and their end-customers will be able to leverage the benefits of an easy-to-scale optimized virtual platform for their Hybrid IT environments."
"We are excited for the opportunity to strengthen our current relationship with Netelligent and see this agreement as a huge win for both companies. Netelligent's Cisco-powered Hosted Collaboration Solution will help our Comstor resellers accelerate their cloud capabilities, providing them with additional opportunities in the commercial, SLED, and SMB marketplace, said Matt Karst, Senior Director of Cloud at Westcon-Comstor. "With Netelligent's HCS solutions, resellers and customers alike will be able to realize the many benefits that cloud solutions offer, including the flexibility to pay as you go and the ability to focus their resources on core business priorities, rather than managing infrastructure expenditures."
Westcon-Comstor collaborates with its partners in a unique engagement model, striving to provide an exceptional partner experience by delivering results together. The Netelligent HCS stands as the exclusive Cisco hosted collaboration technology for Westcon-Comstor in the commercial space.
ABOUT NETELLIGENT: Netelligent Corporation is a technology solutions company. Netelligent provides companies with the basic technologies they need to run their business (phone system, servers/virtualization, disaster recovery, security, networking, and video). Our mission is to help elevate business above technology. We take a neutral approach in helping to determine what IT consumption model best benefits each client's organization (on-premises, managed, or cloud). Founded in 2003, Netelligent is headquartered in Chesterfield, Missouri and operates two data centers located in Colorado and Missouri. Netelligent is a Cisco Gold Partner and SOC II Certified. Additional information about Netelligent can be found on their website http://www.netelligent.com.
ABOUT WESTCON-COMSTOR: Westcon-Comstor (WestconGroup Inc.) is a value-added technology distributor of category-leading solutions in Security, Collaboration, Networking and Data Center. The company is transforming the technology supply chain through its capabilities in Cloud, Global Deployment and Services. Westcon-Comstor combines expert technical and market knowledge with industry-leading partner enablement programs. Westcon-Comstor delivers results together through its deep partner relationships. The company goes to market under the Westcon and Comstor brands. Learn more at http://www.westconcomstor.com.