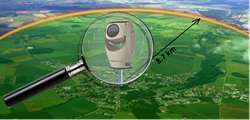 Boston, MA (PRWEB) May 10, 2017
Electro Optical Industries' groundbreaking Spynel X, the world's highest definition infrared search and track (IRST), first launched back in 2014 and has recently been improved to increase its detection range even further. By integrating the latest-generation focal plane arrays , Spynel X, an award-winning panoramic infrared surveillance system, can now detect a human being at up to 8.7 km (5.4 miles).
In addition, with advanced detector coolers, the already rugged and enduring systems also doubled their previous operating time in this newest upgrade to the systems' hardware. These upgrades come at a time when the accompanying advanced image processing software, Cyclope, also has new features. Now, several customizable plug ins for various applications including: AIS (maritime surveillance), ADS-B (airport surveillance) and PTZ (slew to cue functionality for enhanced threat identification), enable a complete integration of thermal alarms in security architectures of multiple heterogeneous sensors.
With more than 150 sensors in operation around the world, the Spynel series is a proven, and innovative solution for automatic, passive intrusion detection and recognition over any wide area of several miles diameter. In order to continue offering the most cutting-edge surveillance sensors for security operators, Electro Optical Industries is continually developing the Spynel family of products, with both software and hardware innovations.
About the Company: Electro-Optical Industries is a world leader in electro optics and infrared test equipment, thermographic cameras for process control monitoring and infrared wide area surveillance systems for protection of a variety of applications. Founded in 1964, Electro-Optical Industries has products in over 45 different countries with a customer list of over 1,000, including some of the best-known companies worldwide.