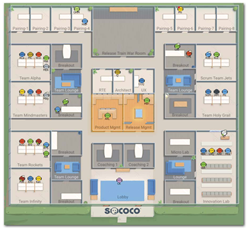 "Fortune 500 companies are saying Sococo helps distributed agile teams meaningfully collaborate and self organize, accelerating the adoption of Agile practices and increasing productivity"-- Cliff Pollan CEO, Sococo, Inc.
BOSTON, MA (PRWEB) May 03, 2017
Sococo -- the online workplace where agile teams get work done, today announced it was included in "Get The Most Out Of Distributed Agile Teams," a new report published by Forrester Research, Inc. on April 27, 2017.
While Forrester notes the benefits that face-to-face collaboration and physical proximity provide software developers, it also concludes "for many shops, 100% colocation is neither achievable nor desirable." According to the report, "companies like Honda, Microsoft, and ThoughtWorks have customers and strategic initiatives across the globe, and they need local teams to support them."
Forrester's research reveals "Co-location often takes a back seat to other priorities such as a globally present workforce, flexible remote-working policies, and near-shore and offshore access to development talent."
In a market where 86 percent (1) of Agile software developers now make use of distributed teams, the report references ways to "get the most out of distributed teams," by building a culture to support distributed teams, supporting distributed collaboration with tools (such as Sococo), establishing processes that build team alignment and relationships, and putting the right people in the right places.
The Forrester report specifically references Sococo as follows:
"Sococo, an online workplace, lowers barriers for distributed Agile development teams by allowing teams to colocate online in an office space based in a visual map with avatars representing team members. Sococo features screen sharing, video, and chat, as well as integrations with collaboration tools such as Slack and Skype for Business. Office maps can be customized to support various Agile methodologies."
"We are honored to have been recognized by Forrester, one of the most influential research and advisory firms in the world," said Cliff Pollan, CEO of Sococo. "I believe that the report validates what our customers (including many large Fortune 500 companies), have been saying: Sococo helps distributed agile teams meaningfully collaborate and self organize, accelerating the adoption of Agile practices and increasing productivity," said Pollan.
"Getting the most from distributed Agile development teams comprised of members across multiple cities and countries, is an ongoing communications and management challenge," said Prateek Singh, Principal Agile Coach at Ultimate Software (NASDAQ: UTLI), an award-winning provider of Human Capital Management (HCM) cloud-based SaaS solutions.
"As 40 percent of our workforce is virtual, we care a lot about improving the efficiency and effectiveness of cross-functional agile teams. Sococo's online workplace is a highly impactful resource that enables our engineers to better communicate and engage with one another no matter their location. It helps us drive team performance, reduce cycle times, collaboratively evolve our practices, and ultimately, develop high quality products," said Singh.
"According to our extensive research amongst thousands of employees across the globe, co-location is not the main issue when it comes to today's most vexing issues related to workplace performance. Instead, dozens of companies have found Virtual Distance -- comprised of a set of metrics that capture the most salient distributed workforce dynamics -- often disable critical connections at the human level and can block fluid and meaningful communications no matter where employees are physically located," said Dr. Karen Sobel Lojeski, Founder and CEO of Virtual Distance International, Inc. "Sococo's innovative product helps naturally reduce some of the key aspects of Virtual Distance providing crucial context to "live" collaborative conversations, coupled with an elevated consciousness around spatial dimension in a virtual environment. This unique design and the ease of use of Sococo's solution organically helps boost productivity, spur innovation and reveal the hidden complexities embedded in today's agile software development teams that once seen, can be addressed directly -- leading to higher performance and accelerated workplace transformation ideals."
Resources:
● Download the Forrester Research "Get The Most Out Of Distributed Agile Teams" report
● Visit here to learn more about Sococo, watch our video and sign up for a free trial
● Click here for a tour of Sococo
● Read a Sococo blog post on the significance of the Forrester report
About Sococo
Sococo is an online workplace that allows Agile teams to work together in a single place, bringing together people from any location. Whether you're in a headquarters, satellite office, home office or in an offshore contractor location, Sococo recreates the personal proximity and functionality of a physical office needed by teams in an online experience. Teams co-locate online in an office space that is based in a visual map with avatars representing team members, so they always feel like a team, even when everyone is scattered across the country or around the world. Used by major brands including FedEx, Liberty Mutual, GE and VistaPrint, as well as Agile Software Development, DevOps, Sales, Marketing and Services teams across the globe, Sococo takes online meetings and collaboration to a new level. Visit us at http://www.sococo.com and follow us on Twitter, LinkedIn and Facebook.
Sococo is a registered trademark of Sococo, Inc. All other marks referenced are the property of their respective owners.
Press Contact:
Patrick Rafter for Sococo
pr(at)sococo.com
617-901-2697
http://www.sococo.com
Footnotes:
(1) 2017 VersionOne 11th State of Agile Report