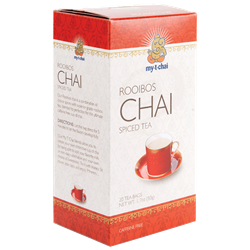 boca raton, florida (PRWEB) May 02, 2017
My T Chai, a brand dedicated to providing high-quality natural chai teas, is coming soon to Amazon.com, the world's largest online retailer.
The company, based in South Africa, has perfected its rooibos tea, a naturally caffeine-free blend that contains only whole spices and rooibos—with no additives, colorings or artificial flavors. It tastes great either hot or cold, making it a perfect drink for both winter and summer. And, the brand's teas are naturally sweet, reducing or eliminating the need to add sugar and other carbohydrates to them.
"We are thrilled to expand our brand's presence through this fantastic new partnership with Amazon," said Michael Chaimowitz, owner of My T Chai. "This is an exceptional platform to help growing businesses bring their products to a much larger audience of consumers. Our tea has found tremendous success locally in South Africa, and we believe people all over the world will greatly appreciate the all-natural blends and rich flavors our products offer."
Studies over the course of many years have demonstrated the goodness that rooibos and masala spices can deliver to the body. In fact, rooibos tea is a rare commodity worldwide, as it can only be found naturally in the Cederberg Mountains of South Africa.
Coming soon to Amazon is the My T Chai Rooibos Chai Spiced Tea, which features pure rooibos, cinnamon, cardamom, ginger, clove and black pepper. There's also the Chocolate Chai Rooibos Spiced Tea, which adds cacao, chicory and vanilla as primary ingredients. It is naturally caffeine free and completely kosher, and a little milk or sweetener can add even more richness to the chocolate flavor.
A home-grown company, My T Chai started in a small kitchen, where its founders brewed individual pots of chai for visiting family members and friends. To this day, the company uses only real ingredients,- authentic spices and rooibos tea leaves, which makes for incredibly great-tasting and high-quality blends.
"Our company is all about quality, and we know that our customers notice a big difference between our teas and others on the market," said Chaimowitz. "We are very pleased to have this opportunity to spread the word about our products and reach tea-lovers everywhere, starting with Amazon's millions of shoppers."
To learn more about My T Chai and the different varieties the brand offers, visit http://www.mytchai.com.