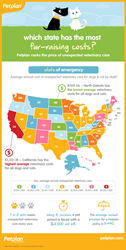 Newtown Square, PA (PRWEB) May 02, 2017
When pet parents take furry friends to the veterinarian, the bill they pay can vary widely by state. According to 2016 claims data released by Petplan pet insurance, pet parents in California spent the most on unexpected trips to the vet, with the policyholders paying upwards of $1,500 annually for their pet. DC came in a close second, with Hawaii rounding out the top three.
The top ten states and their average annual expenditures per insured pet are:
1. California - $1,521.18
2. District of Columbia - $1,515.97
3. Hawaii - $1,480.41
4. Louisiana - $1,472.36
5. New Mexico - $1,459.52
6. Colorado - $1,434.46
7. Maine - $1,417.52
8. Maryland - $1,417.34
9. Delaware - $1,414.29
10. Pennsylvania - $1,402.31
North Dakota and Arkansas tied for the state where pet parents spent the least on veterinary costs for their pets, at an average of $769.56 and $769.60 respectively.
"Most pet parents will probably be surprised to learn that the average bill for unexpected care can range from nearly $800 to $1,500," says Petplan Veterinary Manager Elyse Cannon, "but the reality is that every six seconds a pet parent is handed a bill for more than $3,000! Today's veterinary medicine is quite advanced, so there are almost as many treatments available to furry friends as there are in human healthcare. "
Some of the top conditions that land pets at the vet each year are cruciate injuries, which cost an average of $3,480 nationally; foreign body ingestion, which racks up an average $1,755 bill; and cancer, which averages $2,033 to treat.
"If there's ever a question about the benefit of pet insurance, all one needs to do is look at the data," says Natasha Ashton, co-founder and co-CEO of Petplan. "When you consider that the average Petplan policy costs $440 annually, and that pet parents in all 50 states spent much more than that on trips to the vet, the numbers truly speak for themselves. It all adds up to what's best for pets, and having a pet insurance policy in place to cover these costs is one of the easiest ways to ensure your furry family will always get the best."
For info about Petplan and more fetching pet facts, point your paws to http://www.gopetplan.com.
###
ABOUT PETPLAN
Petplan has built the industry's leading pet insurance for pet parents who demand a higher pedigree of care for their best friends. We've leveraged 40 years of global experience to create completely customizable coverage pet parents can feel confident in, and world-class claims service that's second to none — 24 hours a day, every day.
Petplan's innovative approach to pet insurance has been recognized by Forbes, Financial Times, Bloomberg, Inc. magazine, Smart CEO, the Communicator Awards, Ernst & Young and many others.
Petplan policies are underwritten in the U.S. by XL Specialty Insurance Company, and in Canada by XL Specialty Insurance Company – Canadian Branch. The company is rated A+ by S&P. Coverage may not be available in all jurisdictions. For more information about Petplan pet insurance, visit http://www.gopetplan.com or call 1-866-467-3875.