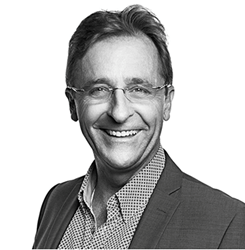 Too often they just say, I make a thing, I sell a thing, I want to give it to you. I say, ok take a step back, make me want to identify with it and aspire to it.
New York, NY (PRWEB) May 03, 2017
HIMSS is pleased to announce that Peter McGrath, senior vice president, Freeman Design Leadership Council, will give the closing keynote address at the BrandHIT Marketing Summit on June 15 – 16 at The Encore at Wynn Las Vegas.
With more than 25 years experience as a creative leader at The Walt Disney Company, McGrath now heads creative for the Freeman Design Leadership Council, a global brand experience agency that empowers brands through personalized experiences. From big picture ideas to creative execution, he and his team create memorable experiences that delight and inspire audiences to take action.
His keynote, titled Unlock the Magic Behind Brand Experiences with a Former Disney Imagineer, will cover how health IT marketers can innovate their approach to experiential marketing and make their brand stand out in the sometimes stodgy business-to-business space.
Many businesses today focus solely on touting their products' benefits instead of telling a deeper story through their brand's identity, McGrath recently told Asia's Marketing-interactive.com.
"Too often they just say, I make a thing, I sell a thing, I want to give it to you. I say, ok take a step back, make me want to identify with it and aspire to it. Make me want to feel that it aligns with my values as a human being, that's a different proposition," he explained. "Once you can define the story, it's a question of how you can bring that story to the world in the five senses. It can apply to anything, from consumer electronics to surgical equipment."
Prior to joining Freeman, Peter spent more than 25 years as a creative leader at The Walt Disney Company, most recently as executive of creative development for the Creative Studio of Walt Disney Imagineering, the creative division of Walt Disney Parks and Resorts. Peter's creative and design influence can be seen throughout the Walt Disney Parks and Resorts globally, including in Anaheim, Orlando, Paris, Tokyo, Hong Kong and, most recently, Shanghai.
"Today, health IT marketers have to work hard to get noticed," explained John Whelan, Executive Vice President, HIMSS Media. "As we planned our first event on health IT marketing, we made sure to offer a wide range of creative, innovative ideas to help them stand out in in a highly competitive environment. Who better to help us look at HIT marketing with fresh eyes than a former Disney imagineer?"
In addition to McGrath's keynote, renowned healthcare neuroscientist Kyra Bobinet, CEO And Founder, EngagedIN, will lead a session called It's the Unconscious Mind that Runs the Show in HIT Engagement. While most health IT messaging leads with logic and education, emotions are responsible for 95 percent of people's behavior, according to Bobinet. She will cover how to reach audiences by building authenticity, trust and value into marketing communications.
McGrath and Bobinet will join the most experienced HIT professionals in the industry, who will lead a variety of breakout sessions on leveraging content, analytics and persona marketing to engage with customers and prospects.
Visit our event website for more information or register here.
About HIMSS Media
HIMSS Media is the fastest growing B2B media group focused exclusively on healthcare and technology markets. Through its suite of market-leading brands, such as Healthcare IT News, Healthcare Finance and MobiHealthNews, HIMSS Media delivers news, analysis and must-have information to an audience of senior healthcare and technology influencers. HIMSS Media is also the leading producer of important live events, such as MobiHealthNews 2016, Privacy & Security Forum, Pop Health Forum, Revenue Cycle Solutions Summit, and Big Data and Healthcare Analytics Forum.
About HIMSS
HIMSS is a global voice, advisor, convener, and thought leader of health transformation through the best use of IT with a unique breadth and depth of expertise and capabilities to improve the quality, safety, and cost-effectiveness of health and healthcare. Through its network of over 1 million professionals, including 64,000-plus members, HIMSS advises leaders, stakeholders and influencers globally on IT best practices to ensure decision-makers have the right information at the right time to make the right decisions. HIMSS North America, HIMSS Analytics, Personal Connected Health Alliance, HIMSS Media and HIMSS International (HIMSS Europe, HIMSS Asia and HIMSS Middle East) are the five business units of HIMSS. A not-for-profit headquartered in Chicago, Illinois, HIMSS has additional offices in North America, Europe, United Kingdom, and Asia.