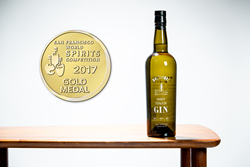 This is the first gold medal awarded to any spirit distilled in Baltimore since distilling returned to the city in 2014
Baltimore, Maryland (PRWEB) May 03, 2017
The Baltimore Whiskey Company is excited to announce their Shot Tower Gin has been awarded a gold medal at the prestigious San Francisco World Spirits Competition. This is the first gold medal awarded to any spirit distilled in Baltimore since distilling returned to the city in 2014. "Products awarded a Gold medal are exceptional. They are near the pinnacle of achievement in their particular category. They are products that set the standard for all others of their type." The Charles Street Apple Brandy was awarded a silver.
"It's humbling to be considered amongst the best spirits in the world," noted Baltimore Whiskey Company head distiller Eli Breitburg-Smith, "I guess I deserve a drink!"
The 2017 San Francisco World Spirits Competition was the largest in its history, with over 2100 entries. Since its introduction in 2000, the SFWSC has become one of the most respected and influential spirits competitions in the world.
These medals, along with three medals awarded to The Baltimore Whiskey Company at the annual American Distilling Institute conference and competition, mark a return to prominence for distilling in Baltimore. There, Shot Tower Gin, Barreled Shot Tower Gin, and the 1904 Liqueur were awarded bronze, bronze, and silver, respectively. Baltimore Whiskey Company products are widely distributed throughout Maryland and Washington D.C., and featured in James Beard winning and Michelin Star awarded restaurants in the region.
The Baltimore Whiskey Company began distilling in 2015 and is the oldest Rye Whiskey distillery in Baltimore. Their two-year Straight Rye, fermented, distilled, and aged in Baltimore, is slated for release in early 2018.