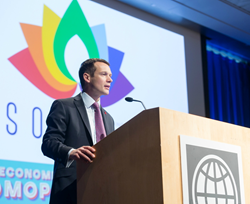 We are honored to have Fabrice Houdart, an esteemed leader and outspoken proponent for equality and human rights, establish the positive climate for inclusivity at the commencement of the 4th Global LGBTQI Human Rights Conference.
Miami, Florida (PRWEB) May 02, 2017
Fabrice Houdart, human rights officer at the Office of the UN High Commissioner for Human Rights (OHCHR) in New York City, has been announced as the keynote speaker for the Opening Reception of the 4th Global LGBTQI Human Rights Conference taking place May 26 – 29 in Miami. This powerful gathering of respected human rights activists, researchers, legal scholars and trade organizations is part of World OutGames Miami 2017, a 10-day Sports, Culture and Human Rights event.
Fabrice Houdart works on the UN Free & Equal campaign, an unprecedented United Nations global public education campaign for LGBTQI equality. He also leads a project on the United Nations corporate standards of conduct for tackling discrimination against LGBTQI people to be launched in Fall 2017. Previously, Houdart was senior country officer for the Maghreb at the World Bank for 15 years and led the Bank's LGBT Employee Resource Group. During his career at the World Bank, Houdart worked in Africa, the Middle East, and Central Asia, first as a human development specialist and later as a strategy officer. He has authored analyses on Yemen, Uzbekistan, Tajikistan and Tunisia and provided contributions to the 2012 Gender World Development Report (WDR) and the 2011 Conflict, Security, and Development WDR. Houdart is a trustee of the Institute of Current World Affairs (ICWA) which immerses promising young professionals in the study of globally important issues and is on the Board of Alturi, a non-profit organization devoted to elevating the LGBTQI community, globally.
"We are honored to have Fabrice Houdart, an esteemed leader and outspoken proponent for equality and human rights, establish the positive climate for inclusivity at the commencement of the 4th Global LGBTQI Human Rights Conference," said Lynare Robbins, World OutGames Miami diversity and human rights director. "Fabrice's extensive diversity programming background and his personal and professional journey are a true representation of our message of unity, equality and acceptance."
The 4th Global LGBTQI Human Rights Conference will feature 25 speakers representing Brazil, Cuba, Canada, St. Lucia, Thailand, Tonga, Uganda, the United Kingdom, the United States and Venezuela, among others. It will address more than 35 topics in the areas of Promoting Inclusivity in Sports (LGB, Intersex, Trans, Women), Health & Wellness (HIV, Disability, Sexuality, Body Politics, Human Trafficking) and Social Justice (Labor/Trade Unions, Religion, LGBTQI Criminalization, Workplace Issues).
In addition to his keynote speech, Houdart will be a plenary speaker during the conference. Previously announced special guest speakers include Tamara Adrián (Venezuela), Juana Mora Cedeño (Cuba), Rev. Houston Cypress (Miccosukee Reservation), Lou Englefield (UK), Amini Fonua (Tonga), Moninne Griffith (Ireland), Surat-Shaan Knan (UK), Richard Lusimbo (Uganda), Deondre Moore (USA), Chris Mosier (USA), Vitit Muntarbhorn (Thailand), Kenita Placide (St. Lucia), Alessandra Ramos (Brazil), Congresswoman Debbie Wasserman Schultz (USA), Omar Sharif Jr. (Egypt/Canada), Nadine Smith (USA), Mark Tewksbury (Canada) and Cyd Zeigler (USA).
International presenters include Joseph Akoro (France), Dr. Ashley Austin (USA), , Diego Bazan (Paraguay), Blessing Bramah (Nigeria), Eloundou Jules Charles (Cameroon), Cathy Eccles (Australia), Victor Elkins (Canada), Cpl. Brandan Harkness (Canada), Marthe Djilo Kamga (Belgium), Melhen Mansour (Syria/UK), Renato Mascara (Australia), Gon Matsunaka (Japan), Solange Musanganya (Ivory Coast), Sayato Nakata (Japan), Alex Orue (Mexico), Francisco Robledo (Mexico), Fumino Sugiyama (Japan), Ricardo Vasquez (Colombia), the Victory Institute (USA), Robert Wintemute (UK), Candy Yun (Korea) and Yahia Zaldi (Algeria).
A full conference schedule and tickets are available at http://outgames.org/human_rights/conference. The conference location will be announced.
The Global LGBTQI Human Rights Conference is sponsored by the International Institute for Race, Equality and Human Rights, the British Consulate General of Miami and the Love is GREAT Britain Campaign, Global Affairs Canada and the Consulate General of Canada, Outright Action International and Robbins Global Innovations.
From May 26 - June 4, 2017, World OutGames Miami will also offer a plethora of sports challenges and cultural exchanges, including PULSE POINTS, an artistic response to the Orlando massacre at Pulse Nightclub from 6 p.m. to 10 p.m. on June 1. World OutGames Main Village at Lummus Park, Miami Beach's oceanfront park, will also host activities, vendors and entertainment offerings.
World OutGames Miami is made possible through the support of adidas, the City of Miami Beach, Florida Sports Foundation, Miami Beach Visitor and Convention Authority, Coca-Cola, Greater Miami Convention & Visitors Bureau, Bacardi, Happy Copenhagen, Arts & Business Council of Miami, the University of Miami Health System, the International Institute on Race, Equality and Human Rights, Miami Sports, Hotspots Media Group, OutClique, South Florida Gay News, 93.9 MIA and additional contributions from many individuals and businesses. World OutGames Miami is funded in part by a grant from the City of Miami Beach, along with the support of the Miami-Dade County Department of Cultural Affairs and the Cultural Affairs Council, the Miami-Dade County Mayor and Board of County Commissioners.
In the spirit of true inclusiveness, the World OutGames is open to all, regardless of sexual orientation. For more information or to register, visit outgames.org.
About World OutGames
World OutGames is a multi-sport and cultural event licensed by the Gay and Lesbian International Sport Association (GLISA). Every four years, World OutGames brings together athletes from all over the world for a celebration of sport, culture and human rights, many from countries where homosexuality remains illegal and hidden. Previously hosted in Montreal, Copenhagen and Antwerp, World OutGames is open to all who wish to participate, without regard to sexual orientation. There are no qualifying standards, although competitions are arranged according to the skill levels of the competitors. For more information about World OutGames, visit us at http://www.outgames.org, facebook.com/OutGamesMiami, on twitter @outgamesmiami and on instagram @outgamesmiami.
# # #